Equality Impact Assessment
Removing any existing and potential barriers to equality is critical to creating an inclusive work and study environment where people feel welcomed, valued, and supported. We have developed this guidance and the supporting LEARN - ACT - MEASURE model to ensure that our colleagues are equipped to fully embed an assessment of equality impact into any decisions, policies or activities that may impact on people, thus ensuring that these are inclusive by design.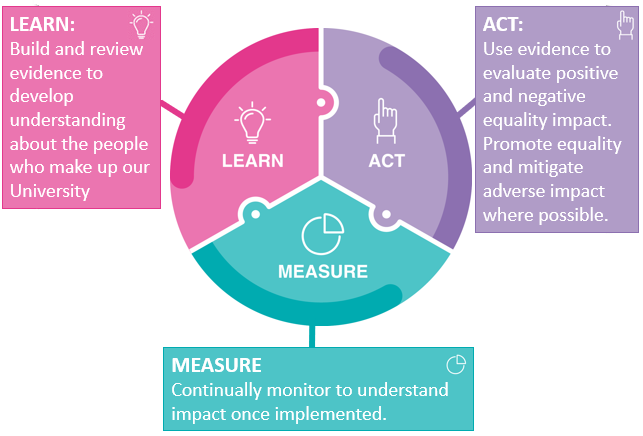 Equality Impact Assessment Guide

Full guidance document introducing Equality Impact Assessments. This includes; why to use them, when to use them and how to complete them.

EIA Presentation Recording

This presentation gives a brief overview and introduction to Equality Assessments and how to complete them.

Equality Impact Form and Checklist

Here you will find an EIA form to help structure the process, and a 'quick list' to refer to once other guidance has been read.
Contact Us
If you require any of the EIA documents in an alternative format, or for any queries about making an Equality Impact Assessment, please contact The EDI Team.