Regular gym closures
Please be aware that from 19 July the Indoor Sport Centre gym will close to members twice daily for cleaning until further notice. View out opening hours, or download the gym timetable, for times.
Indoor Sports Centre
We can confirm that we received our COVID-Secure certification from the University for the Indoor Sports Centre in August 2020. Our Health and Fitness Team will be available across the gym to provide guidance as required.
It is really important that if you do feel unwell that you do not visit any of our facilities.
To manage social distancing in our gym we have extended the gym into studio 3. The upstairs gym and studio have maximum room capacities so if you enter either of these areas and it seems to be full please move to a different area of the gym.
All payments will need to be through your online account, we will not be taking payments at the Welcome Desk.
Wearing face coverings in indoor spaces will be expected and recommended. Once you enter your exercise or activity area it is at your own discretion as to whether you wear a face covering.
Changing facilities are available, including lockers for essential personal belongings.
Shared exercise mats will be available to use, but visitors are permitted to bring their own mats to use during acitivty if they prefer.
Facilities available at the Indoor Sport Centre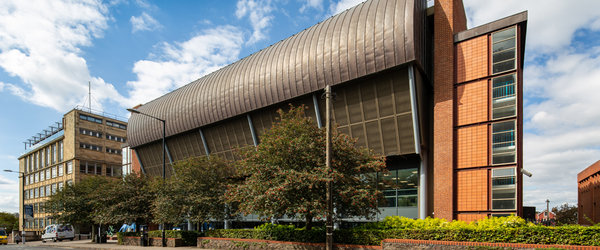 The Indoor Sports Centre is located at the heart of the University campus on Tyndall Avenue.
Main Gym

Open plan fitness suite contains state of the art equipment for fitness training and conditioning, and the Gym reception desk.

Upper Gym

The facilities continue upstairs, including the exclusive new s-drive treadmills, CrossFit-style rig, free weights and stretching area.

Studios

Used for a variety of

fitness classes

, including exercise to music, circuits, yoga and pilates.

Sports hall

The double-court sports hall is used for badminton, basketball, circuit training, five-a-side football, netball, table tennis, trampolining and volleyball.

Sports Medicine Clinic

Offering expert and comprehensive

sports medicine services

to all whether you are a student, a member of staff at the University or the wider public community. Our clinicians stay at the forefront of treatment and research and adhere to its high professional standards.
Opening hours
From 19 July, the gym will be closed twice daily for 15-minutes for cleaning. See our gym timetable for more information.
Please note: On Wednesday (14:30 - 15:30) the gym is available by booking only for the Women-Only Gym Session. This session is exclusively for members who self-identify as female.
Day(s)
ISC
Monday to Friday

7:00 - 14:15

14:15 - 20:00

20:15 - 22:00

Saturday

8:00 - 14:15

14:30 - 18:00

18:15 - 20:00

Sunday

GYM

8:00 - 14:15

14:30 - 18:00

18:15 - 20:00

SPORTS HALL

8:00 - 22:00
Off-peak & peak times
Off-peak hours for the Gym and Classes are from opening to 3:30pm Monday to Friday and any time during opening hours on the weekend.
Peak/Anytime members can access the Gym and Classes at any time during opening hours, seven days a week.
See the Indoor Sports Centre's location and get directions.
See our membership options available to students, staff and members of the public.