Bristol Mentors
Networking and making connections can be vital to boosting your employability and your confidence.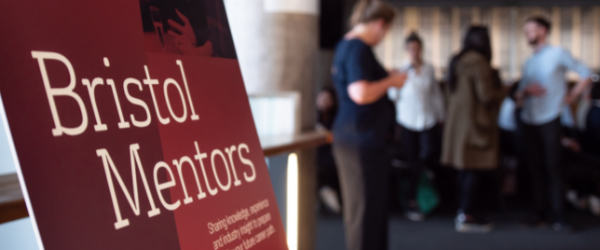 The Bristol Mentors scheme matches successful applicants with an alumni mentor who will help you explore ideas, share advice and give you an edge to break into the industry/job sector that interests you.
Bristol Mentors is for you if:
you have ever wished you could ask someone questions who works in the industry you aspire to work in.
you would benefit from having a Bristol alumnus in your corner who can support, advise and help you level the playing field?
you are unsure of what you want to do after University and don't know where to start.
Please note: The Bristol Mentors scheme is for students returning for study in September for 2022/2023 who meet the eligibility criteria.
Why should I apply for Bristol Mentors?
Mentors provide a unique perspective with their knowledge and experience which can give you a major advantage before your degree is even finished.

Your mentor will act as a great sounding board to give their honest opinion on your ideas and plans.

Our Bristol Mentors are positive and enthusiastic and want to help students grow and develop confidence.

Becoming a mentee will challenge you and teach you new skills – mentoring requires communication and relationship-building as well as receiving and taking on feedback.

Enrolling onto this programme will demonstrate you are proactive and determined to get to where you want to be.
Check you are eligible
The programme is open to UK home-based undergraduate students who are who returning for study in 2022/2023.
To participate in this programme, you will need to meet at least one of the following criteria:
Bristol Mentors criteria
You are a mature student (aged 21 or over at the start of your undergraduate study programme).

You have received a University of Bristol bursary/scholarship.

You live in an area with low progression into Higher Education. You can check whether your address qualifies by entering your postcode into the POLAR checking tool on the Office for Students (OFS) website. Eligible postcodes are those as defined as being within Quintiles 1 or 2 using the POLAR4 metric. The number in the POLAR3 young participation quintile column must be 1 or 2 for your address to qualify.

You are a Black, Asian or Minority Ethnic student.

You are a student identifying as having a disability.

You have attended an aspiring school or college. This is classified as state schools and colleges which fall in the bottom 40 per cent for either; application to higher education or average attainment in A-levels or equivalent qualifications. You can check eligible schools in England and Wales.
What makes a good Bristol Mentors application?
Bristol Mentors is a very popular programme, and we recommend you spend time writing a focused application that you can be happy with to give yourself the best chance of being accepted.
In your application you will need to demonstrate:
Why you need the support of a mentor
How you will work with us to plan how to utilise your mentor
That you will commit to the role and make sufficient time to be a reliable student mentee

Contact us
For any further queries about the programme contact alumni-mentoring@bristol.ac.uk.