The Fry building - the new home of the School of Mathematics
The University of Bristol has transformed the Grade II listed Fry Building to become the new home for the School of Mathematics.
The new building has lecture theatres and other teaching rooms, and a wide variety of spaces for student quiet study, areas for groups and individuals as well as social areas and interaction space.
The Fry Building is at the heart of the campus, just a short walk from Beacon House study centre and café, and close to Royal Fort Gardens and to the many other Schools in the University with which we interact.
While the historic character of the Grade II listed building have been preserved, new additions include an atrium linking to a new 140-seat lecture theatre underneath a roof garden.
The atrium integrates public art in the form of a Voronoi pattern. This Voronoi screen, which also acts as a brise-soleil, encloses what were originally external walls and has a large glass staircase from which you can enjoy spectacular views of the city.
We are very grateful for the generous support of the Wolfson Foundation towards the redevelopment of the Fry Building.
‌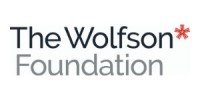 Look inside the Fry Building in our 360° virtual tour. Explore the entrance hall, atrium, 140-seat lecture theatre and quiet student study areas.
Detailed access information for the Fry Building from AccessAble.
Project aims
Refurbish the Fry Building as a world class facility for mathematics research and teaching that will attract and retain staff, undergraduate and postgraduate students;
Enhance the building's setting and contribution to the surrounding Conservation Area through improvements to the public realm;
Improve the access and approach to the building for pedestrians;
Provide a distinctive new entrance and sense of identity for the School of Mathematics;
Improve integration between the School of Mathematics and other adjacent departments and faculties;
Reinforce linkages within the University Precinct as identified in the Precinct Masterplan;
Improve access throughout the building;
Promote and foster integration and interaction within the School of Mathematics.