Wildfilm and related archives
In 2019, the University received a substantial grant from the Wellcome Trust to launch the 'Making Wildfilm History Archive Project'. This resulted in the cataloguing and selective digitisation of a large mixed media collection relating to wildlife film-making.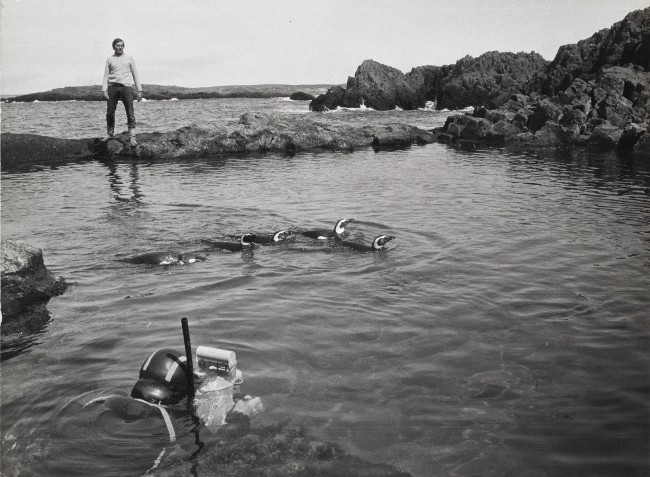 The Wildfilm Archive - DM2911
The Wildfilm Archive holds a broad range of material, both paper and audio-visual, arranged over nine main sections, summarised below. To browse the catalogue, click here.
Production papers and stills – Scripts, audience research, correspondence and publicity material.
Wildlife films – Video tapes including the WildFilmHistory collection, tracing the development of wildlife film-making from 1895. 16mm films from Eric Ashby, Niko Tinbergen and Dieter Plage.
Oral histories – Master tapes and transcripts for video interviews with sixty film-makers, including Sir David Attenborough, Heinz Sielmann, Des and Jen Bartlett, Barry Paine and Colin Willock.
Film festivals – Delegate literature and recordings from wildlife film festivals including Bristol's Wildscreen, the International Wildlife Film Festival (IWFF) Missoula and Jackson Hole in the United States.
Eric Ashby's photography – Images of foxes, badgers, birds and landscape in the New Forest.
Sound collection – BBC Radio programmes on natural history, plus environmental sound recordings and film soundtracks.
Serials and magazines – Issues of the Radio Times, BBC Wildlife and assorted press cuttings, creating a contemporaneous record of how wildlife films have been promoted and reviewed in the press.
Papers and discourse – Academic papers, lecture transcripts and audio recordings analysing the field of natural history film-making.
Objects – Filming equipment, animal specimens, posters and drawings.
Dr Harry Lillie - DM2971
A small collection of films, slides and a book proof copy by Dr Harry Lillie (died 1990) of Dunkirk, Scotland. Lillie was a surgeon and medical officer aboard British whaling ships in the Antarctic during the 1940s. What he saw, and filmed, compelled him on a life-long mission to prevent unnecessary suffering in animals at the hand of humans. He travelled widely throughout the US, Canada, Australia and New Zealand, making films and lecturing to animal rights societies and hearings on the subject of animal cruelty. The seven unique films in this collection contain early examples of anti-vivisection film. There is some distressing footage of violence against animals. To browse the catalogue, click here.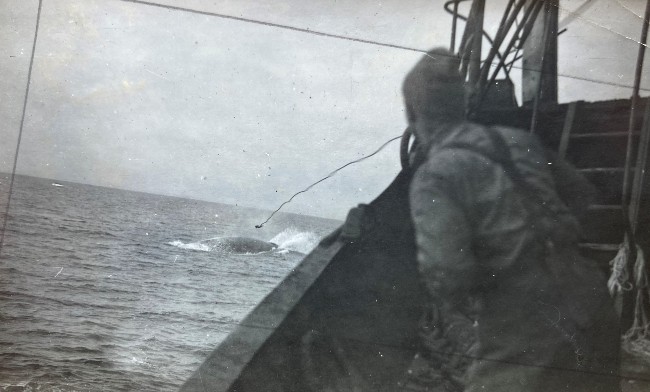 ‌H‌arpoon in the air before penetrating a fin whale (Antarctic, 1947). Photo by Dr Harry R. Lillie. Ref. DM2971/2/1.
Angela Hughes - DM2915
Angela Hughes OBE (1922-2009) was a conservationist and keen amateur film-maker, capturing footage of local wildlife in her home county of Dorset and nature reserves around the UK. She travelled extensively with her camera, filming in countries including Ethiopia and New Zealand. Alongside 16mm films there is some supporting paperwork, VHS tapes and over 500 slides. To browse the catalogue, click here.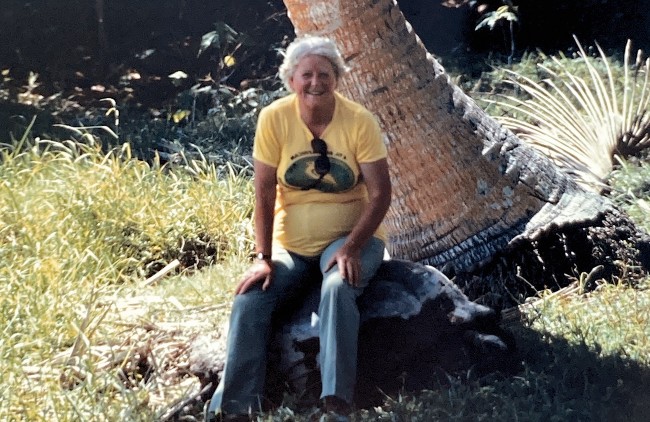 Angela on giant tortoise, Frigate Island, Seychelles" [1963]. Ref. DM2915/5/2.
Oral histories in the Wildfilm Archive
FAQs
How do I navigate the Online Archive Catalogue?
Click the '+' button next to each heading to see more information about the content of that section. This will reveal a list of catalogue records for every individual file/item under the heading. Related material is grouped together based on its creator and format. There may be more '+' buttons to expand, depending on the volume of material held in that section.
What's been digitised?
If a film/tape has been digitised, you will be able to see an additional record '+' below the item in the catalogue, starting "Digital copy from…" in the title field. This means the item has been digitised.
A small amount of paper material from the 'Production papers and stills' series has been digitised. Where available, you will see a thumbnail image or PDF attachment in the catalogue record. To view file/s in person in the Reading Room at the University's Arts and Social Sciences Library, please contact Special Collections.
How do I watch/listen to digitised content?
There is a viewing terminal in the Special Collections Reading Room. Book in by contacting Special Collections. Please include reference number/s (i.e. "DM2911/x/x/x") for the material you would like to review. We recommended bringing your own headphones.
Why can't I watch films online?
The Wildfilm Archive is a research resource, not a stock footage library. For copyright reasons, we aren't able to stream or make copies of digitised content available online.
Can I use footage from the archive in my film?
You will need to obtain permission from the copyright holder (in most cases, this will be the production company). Each record in the catalogue states the copyright holder, where known. Please speak to us before contacting a copyright holder about material in the Wildfilm Archive.
Production companies will hold original masters for much of the associated material in the Wildfilm Archive. Media organisations like the BBC and ITN supply footage to film-makers and researchers through commercial film libraries, often for a fee. Examples are the BBC Motion Gallery managed by Getty, and ITV's Archive. If you are interested in content owned by these organisations, we recommend registering directly with them.
Can I use images from the archive in my work?
If you are taking photos of material for personal use, i.e. research, we will ask you to fill out and sign a Copyright Declaration form when you visit the reading room.
Commercial re-use will require permission from the copyright holder.
Can I donate material to the archive?
The 'Making Wildfilm History Archive Project' ran from 2019-2022, funded by a grant from the Wellcome Trust. The University of Bristol Library is committed to supporting the growth of this archive of wildlife film-making. If you have material to offer, please contact Special Collections to see whether we can facilitate donation at this time.
Contains descriptions of many of our archive collections.