Bristol Reads
We created our Bristol Reads collection as a space to allow our library members to develop and grow the love of reading for pleasure. Bristol Reads holds 100s of books and is a collection developed to foreground diverse writers. The collection celebrates a variety of works from international fiction to graphic novels, contemporary poetry and non-fiction books covering cooking to mud-larking to environmental protest.
The Joy of Reading!
Reading for pleasure can improve mental wellbeing and has many physical benefits. Putting time aside to read for pleasure can help ease stress as it can lower ones blood pressure and heart rate, this also means that reading before bed can aid in readiness for a goodnight's sleep. With the potential to widen vocabulary, improve brain connectivity and increase understandings of empathy, reading is considered to improve wellbeing on so many levels.
---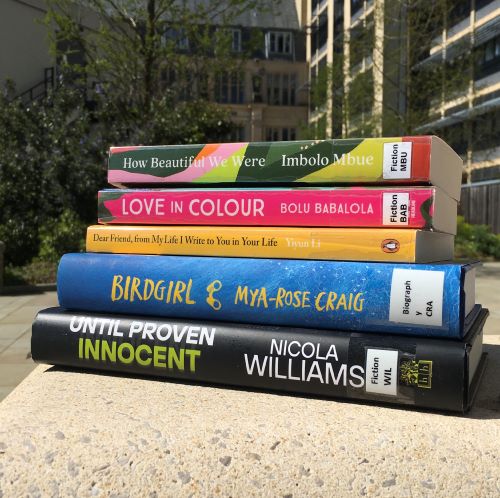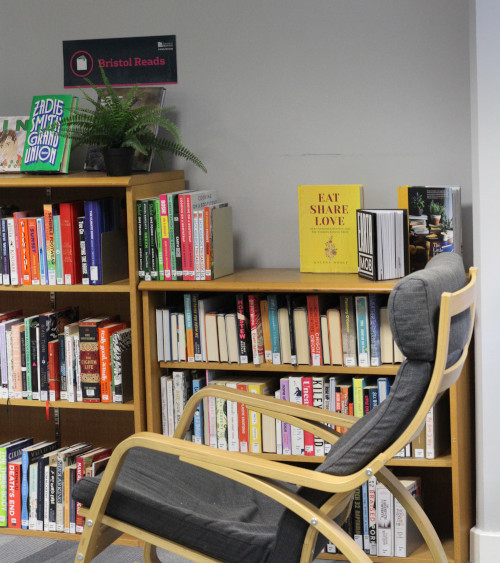 Have Any Recommendations?
We want to keep our collection current and of interest to all, so if you have any suggestions for additions to the Bristol Reads collection please let us know by suggesting a purchase.
Recommendations from the Library Staff
Here are some of seasonal staff favourites from the Bristol Reads section, a little bit spookier than usual!
White is for Witching by Helen Oyeyemi
I loved White is for Witching by Helen Oyeyemi. It follows the Silver family - Luc, Miranda and Eliot - who run a B&B in Dover. Wife and mother, Lily, has passed away, to which no one has reacted well, including the house. It's an unusual book that hints at a lot but doesn't answer much. Oyeyemi plays with cliché and form in such a compelling way – the novel feels dreamlike and uncanny, fans of Shirley Jackson and Angela Carter will likely enjoy the atmosphere of this one. A weird fairy tale, complete with spooky goth twins and a haunted house – I highly recommend for a dark winter's night!
- Beth, Library Assistant
Weird Bristol by Charlie Revelle-Smith
Weird Bristol started life as a popular X, formerly Twitter, page and then grew into a series of three guidebooks. The books lead you on various walking tours through the city centre, stopping off at the sites of bizarre, creepy and downright grisly goings-on in Ye Olde Bristol; everything from the legendary UoB gorilla heist to eighteenth-century exorcisms in Temple Church. Reveille-Smith spins the tales with a decent dose of humour and I highly recommend as a Halloween read for Bristol newcomers and lifelong residents alike. I can't imagine Cardiff or Swindon being this weird.
- James, Library Assistant
Blood Meridian by Cormac McCarthy
A brutal, shocking subversion of oft-romanticised Old West tropes. It is unbelievably violent in the most unglamorous fashion. The violence isn't used as a plot device or cheap means of conflict resolution, but rather a state of being and a way of life that the book's characters visit upon on others as much as it is visited upon them. It also features one of the most horrifying figures in literature in the form of Judge Holden, who might even be the Devil himself. A haunting, disturbing, brilliant piece of work.
- Omar, Library Assistant
Wuthering Heights by Emily Brontë
In my opinion, there's nothing more spooky than a bit of isolated countryside. And when those wily moors are home to a bunch of weird characters all going a bit mad, it's even spookier. (And the kind-of-incestuous relationship between Cathy and Heathcliff is just quite spooky too). Wuthering Heights is delightfully gothic and gorgeously passionate, bursting with rich prose and different narratives that weave together ingeniously – like 'a range of gaunt thorns all stretching their limbs one way, as if craving alms of the sun' if you will (p. 10). Brontë also sensitively explores issues of race, religion, class and gender, making this a pretty standard A Level English text. If this is your only (and probably tedious) experience with the book, I'm begging you to give Wuthering Heights another shot – and there's no better time than during spooky season. (Or you could just listen to the Kate Bush song).
- Mia, Library Assistant