Achieving a net zero transport system for Bristol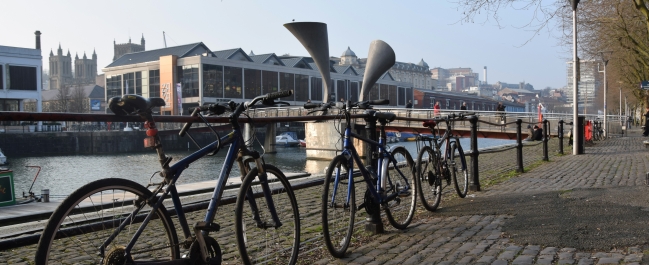 Bristol won't reach its 2030 carbon neutral target without a major shift towards active and public transport.
The challenge
Bristol must make significant changes to its transport sector in order to meet the city's 2030 carbon neutral target. An 88% reduction in emissions in the transport sector is required in the next decade. In the South West, transport is the largest single source of carbon emissions at 32%, and has been slow to change compared to other sectors.
The challenge of reaching the 2030 targets in transport has intensified by uncertainty over what a carbon neutral transport sector would look like. There has been little research on what scale and nature of shift is required, making it difficult to establish effective strategies to bring about the change required.
Currently, Bristol has a high car modal share (the share of journeys by each major mode of transport in the city) at 51% compared to 19% public transport and 30% active travel. To meet the necessary reductions in emissions, Bristol must act fast to reverse the reliance on car use.
What we're doing
In order to understand the modal shift that will be required, we calculated emissions for all transport to 2030 to illustrate the required change and derived a baseline for transport modal share. We estimated the required modal share for 2030 by taking car mileage reduction as a proxy for the transference of journeys to other modes.
We have written a report that provides the best estimate for the current modal share, and suggested a required shift based upon reducing car mileage in order to reach the net zero target by 2030.
We analysed the ways modal share targets could be met by a reduction in car use and increases in public transport and active travel, drawing evidence from successful case studies in Europe.
How it helps
The report highlights that in order to meet the carbon net zero target, we need to make significant changes in the ways that we travel around the city, with 25% by public transport, 55% by active travel and 20% by car. We also discovered that Bristol lacks the data needed to monitor the ongoing travel behaviour of Bristol residents and that a greater collaboration between transport stakeholders in the city is needed.
This research has provided evidence for the importance of prioritising public and active transport in funding decisions.
Our recommendations will provide the catalyst required for building more connected, segregated cycling infrastructure and introducing more low-traffic neighbourhoods. This research will also help inform new policy central to improving safety and facilitating a shift to more active ways of travelling.
Investigators
Miriam Castillo Orozco
Anna Collingridge
Eveline Hall
Alex Swan
Clare Watson