Indigenous food systems in protracted crisis: Kashmir and Guatemala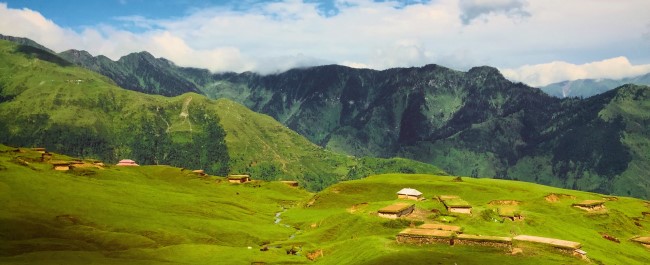 Pushing the boundaries of transdisciplinary food systems research, by better understanding how indigenous food systems support food and ecological security, rooted in local knowledge and cultural systems in regions of protracted political and environmental crises.
The challenge
With nearly 25% of the world's population living in areas of protracted crisis (of which 93% in extreme poverty), there is an increasing triple burden of malnutrition and diet-related diseases in regions affected by prolonged conflicts where typical international development approachesmay not apply. This is amplified in regions particularly vulnerable to the impacts of climate change, with natural disasters(e.g. monsoons, droughts, forest fires) hitting hard agricultural areas where political structures are struggling, prompting further conflict, food insecurity and migration.
This particularly effects indigenous communities, whoaretypically marginalised, poor and oppressed. Their knowledge and ways of life are overruled by modernisation, despite holding valuable and culturally sensitive mechanisms to manage shocks and challenges.How can food systems in unstable environments develop resilience, especially where there is multifactorial crisis of not only armed conflict but also climate change, environmental degradation, povertyandrising burden of malnutrition and diet-related diseases?
India and Guatemala have both been consistently in the top 10 of the Global Climate Risk Index, measuring exposure and vulnerability to climate change. At the same time, these communitieshave effective approaches and tools for resilience within their own traditional practices, but there is a dearth of research on this nexus, which we aim to better understand through the proposed partnership.
The two study areas share many similarities and may act as term of reference for other contexts around the world due to the three-decades long conflicts entwined inrepression, marginalisation and violence against indigenous populations, strong cultural-ethnic farming and food practices and ongoing challenges of changing food systems to strengthen indigenous food security from the bottom-up. This is particularly relevant in relation to the controversial United Nations Food Systems Summit, which has been criticised by a large group of indigenous organisations to privilege corporate and violent food regimes that often contribute to diet related NCDs amongst indigenous people.
What we're doing
Through collaboration with academics, NGO partners and indigenous communities, we are strengthening collective autonomy and decision-making to build locally relevant, climate resilient food systems to tackle triple-burden of malnutrition and diet-related diseases in accordance with their needs and ethno-cultural practices. We aim to understand the impact of long-term crises on food and ecological systems by documenting indigenous knowledge, attitudes and practices (KAPs) of food and ecological resilience with the hope to promote alternative forms of knowledge.
How it helps
We take a participatory and transdisciplinary systems approach to address agrifood health –human, social, environmental – that is with, for and based on indigenous food system knowledge. By doing this, we aim to contribute to ways that indigenous people, and what the wider population may be able to learn from them, can live better, healthily, and sustainably amidst the political and environmental challenges afflicted during long-termcrisis.
In prioritising biocultural heritage, we can support solutions to food/nutritional security and resilience that are culturally pertinent whilst also being fundamental for addressing climate change and environmental degradation in a regenerative way.
Investigators
Dr Lauren Blake (University of Bristol) is an interdisciplinary food anthropologist, human geographer and agrifood systemsspecialist. She draws on political ecology and systems thinking to research the interconnections between the health of people, society, animals and the environmentfor equitable food systems.With regional expertise in Latin America, Lauren will lead on the partnership in Guatemala and qualitative participatory methods.
Dr Mehroosh Tak (Royal Veterinary College)is an agricultural and development economist focusing on agriculture-nutrition links. She uses pluralist economic methods to study food systems andevaluatesfood policies in South Asia. An expert on Indian agricultural and livestock systems, Mehroosh will lead on the partnership in Kashmir, systems approaches to study KAPs and economic methods.
Lauren and Mehroosh will be collaborating with a number of academics and organisations locally to lead on different aspects of the evolving project.

Lead researcher profile
Dr Lauren Blake, School of Geographical Sciences