Mitigating everyday risks in Perú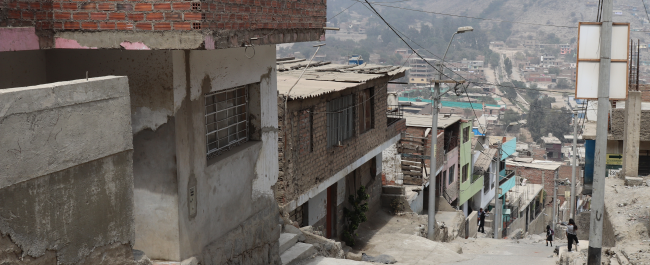 We are improving the understanding and mitigation of frequently occurring natural hazards which cause a significant impact on livelihoods and wellbeing.
The challenge
Perú is highly vulnerable to water-related hazards, particularly from energetic water flows that transport mud and debris. The coastal region of Perú is impacted by El Niño and other more localised meteorological events related to sea surface temperatures every year. Intense rainfall results in huaicos (flash floods) that are localised but highly destructive.
In the highland areas, recently active volcanoes have deposited vast quantities of volcanic ash which coupled with seasonal intense rainfall result in destructive lahar (debris flow) events each year. Settlements on the coastal plains are affected by flash floods that mobilise loose sediments from arid foothills. Both these events directly impact homes and critical infrastructure in towns and cities. For example, in Spring 2017, flash floods occurred throughout the coastal lowlands, causing more than 100 deaths, economic losses of more than US$ 3 Bn and 3000 km of roads unusable. In 2018 more than 80 people were killed and 21,000 affected.
Exposure to hazards is worsened by a long history of migration into cities due to conflict, particularly resulting from the guerrilla war involving the Shining Path in the 1980s, and because of economic pressures. This movement to the cities has resulted in many informal settlements located in areas of high risk to flash floods. Vulnerable populations live in poorly constructed housing on or close to flow channels with energetic sediment carrying flows that occur frequently in predominantly unmonitored catchments. The resulting frequent hazard events have a direct impact on health, livelihoods and wellbeing of the most disadvantaged populations.
What we're doing in partnership
Combining hazard modelling and participatory social science, we have investigated a typical everyday hazard in Perú - flash floods (huaicos). We are strengthening capacity in preparedness and response to huaico events, recognising that real disaster risk reduction is built around effective prediction of events and their impact, and direct engagement with those affected. The research has been co-developed in partnership with Peruvian NGO, University and Institutional partners who have led the in-country research.
We have looked at how and where the hazard events start; what are the mechanisms that control their motion and impacts on structures; and what are the affected communities' experiences of risk and responses to these events, as compared to other daily threats such as poverty, crime, or health issues.
How it helps
This research is informing the development of community-based early warning systems, and community and institutional preparedness plans, and creating protocols for their roll-out nationally in Perú. These strengthen the capacity to mitigate the risk associated with everyday hazards.
The methods for community engagement are already being used by the National Service of Meteorology and Hydrology of Perú (SENHAMI) in relation to other water-based hazards.
This project will also promote economic development and welfare by building new and transferable capabilities for in-country agencies and NGOs to work together to make effective model predictions of inundation and impacts, and to co-create and calibrate early warning systems. This project is directly relevant to addressing development challenges in Perú and provides a template that is highly transferrable across a range of hazards and other municipalities in Perú.
Investigators
Professor Jeremy Phillips (

https://jeremyphillips.blogs.bristol.ac.uk)

, School of Earth Sciences, Faculty of Science PI (expertise in hazard modelling and assessment, and is Bristol lead of the GCRF Urban Disaster Risk Hub)
Professor Ana Juncos Garcia, School of Sociology, Politics and International Studies, Faculty of Social Sciences and Law CoI (expertise in participatory and theoretical social science and lead of H2020 and ESRC projects on civil society capacities)
Dr Mark Woodhouse, School of Earth Sciences, Faculty of Science CoI (Early Career Researcher and NERC Knowledge Exchange Fellow, expertise in predictive mathematical modelling of natural hazards)
Professor Andrew Hogg, School of Mathematics, Faculty of Science CoI (expertise in mathematical modelling of shallow surface flows and waves, and CoI on NERC-ESRC resilience and GCRF projects)
Waldo Lavado, Servicio Nacional de Meteorología e Hidrología del Perú (SENHAMI), Perú (National meteorological services with responsibility for hydrometeorological hazards)
Juvenal Medina, Instituto Nacional de Defensa Civil (INDECI), Perú (National emergency response agency)
Jhon Chagua, El Centro Nacional de Estimación, Prevención y Reducción del Riesgo de Desastres (CENEPRED), Perú (National disaster risk management agency)
Dr Teresa Armijos, University of East Anglia, UK (expertise in arts-based participatory methods in social science)

Lead researcher profile
Professor Jeremy Phillips, School of Earth Sciences
Partner organisations
Servicio Nacional de Meteorología e Hidrología del Perú (SENHAMI), Perú
Instituto Nacional de Defensa Civil (INDECI), Perú
El Centro Nacional de Estimación, Prevención y Reducción del Riesgo de Desastres (CENEPRED), Perú
University of East Anglia
Funders
The underpinning methodological approaches have been developed through University of Bristol GCRF pump-priming and Newton-Paulet Researcher Links Workshop funding.