MSc
Nutrition, Physical Activity and Public Health
Find a programme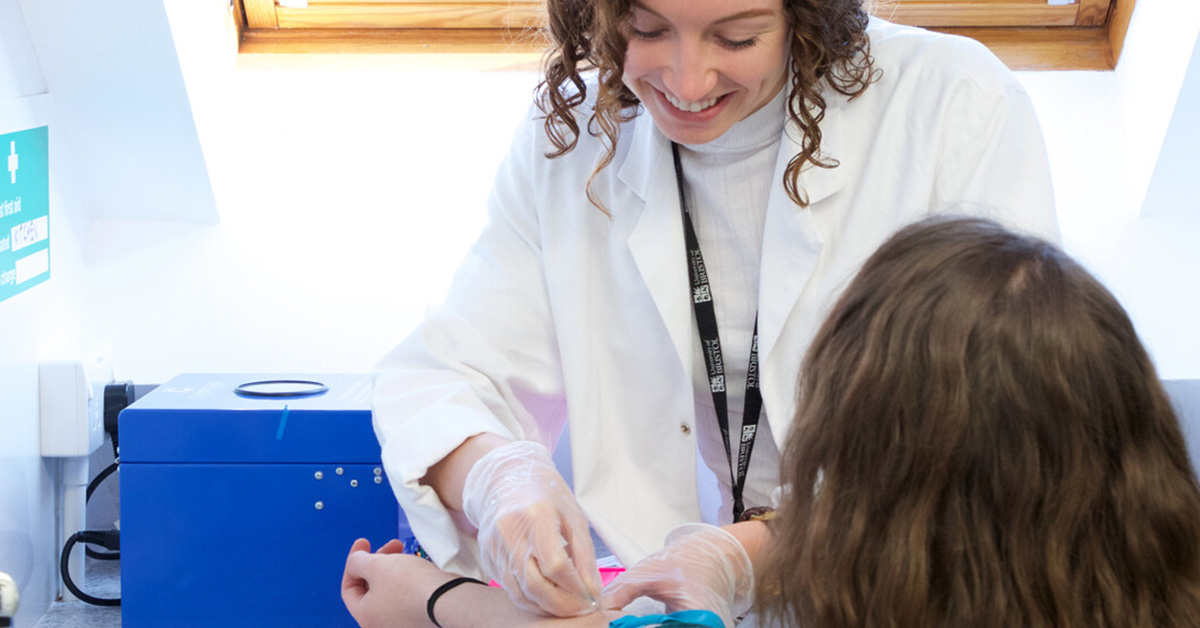 Programme overview
Health promoters, city and service planners, and public health leaders all have a growing need for high-quality research that is timely and relevant. In this degree we focus on developing your skills in research, policy and practice in the combined fields of diet- and physical activity-related public health and wellbeing.
This work is vital in addressing real issues of concern to policymakers and practitioners. We are different to other MSc programmes in public health because ours is one of the first to recognise the need for specialisation in the three intertwined disciplines of nutrition, physical activity and public health.
Our programme provides a unique insight into the fascinating interactions between activity, diet and health by helping you to critically examine key interactions at the interface of epidemiology, psychology and policy-relevant research. The programme will also help you develop important skills in designing and evaluating research and community interventions in these connected fields.
This MSc is designed for dieticians, physical activity, food and fitness specialists and other health professionals (such as nurses, physiotherapists, kinesiologists, physical trainers and occupational therapists) who wish to gain a deeper understanding about the evidence around the role of nutrition and physical activity in public health, the factors that influence people's physical activity and eating behaviours, and how to develop and evaluate nutrition and physical activity interventions.
If you are a graduate from another discipline who would like to work towards a career in this area, we will also welcome your application.
The latest Research Excellence Framework rated the Centre for Exercise, Nutrition and Health Sciences as the leading UK centre of research excellence within the field (see the Times Higher Education analysis of REF 2014). In addition, 100 per cent of its research impact was judged to be of the highest level.
Take a look at these videos to find out more, including interviews with our students.
Fees for 2021/22
We charge an annual tuition fee. Fees for 2021/22 are as follows:
UK: full-time (MSc)

£9,100

UK: part-time (MSc)

£4,550

Overseas (including EU): full-time (MSc)

£21,000

Channel Islands/IoM: full-time (MSc)

£9,100
Fees are subject to an annual review. For programmes that last longer than one year, please budget for up to a five per cent increase in fees each year. Find out more about tuition fees.
Alumni scholarship
University of Bristol students and graduates can benefit from a ten per cent reduction in tuition fees for postgraduate study. Check your eligibility for an alumni scholarship.
Funding for 2021/22
Further information on funding for prospective UK, EU and international postgraduate students.
Programme structure
All units are compulsory and there are no formal examinations. Work is assessed through written assignments, presentations, written reports or research proposals. During the final term, you will complete an original research investigation and dissertation (8,000 to 10,000 words) in the form of an academic paper for a scientific journal on an approved public health-based topic, which will incorporate nutrition or physical activity or a combination of the two.
Part-time students will be given guidance about which units to complete in each year of study.
Visit our programme catalogue for full details of the structure and unit content of our MSc in Nutrition, Physical Activity and Public Health.
Entry requirements
An upper second-class honours degree in a relevant field (eg nutrition, sports science, biology, psychology, food science, kinesiology, dietetics, medicine, nursing, policy) or equivalent international qualification. Other academic backgrounds and relevant professional experience will also be considered.
See international equivalent qualifications on the International Office website.
English language requirements
If English is not your first language, you need to meet this profile level:
Profile E
Further information about English language requirements and profile levels.
Admissions statement
Read the programme admissions statement for important information on entry requirements, the application process and supporting documents required.
Careers
This programme is designed for students who want to pursue careers in nutrition and physical activity-related research, public health policy, public health consultancy, public health advocacy and legislation and in implementing programmes that promote health. Employers of our graduates include the public sector (eg local authorities, county health departments, Public Health England, National Health Service), universities and academia, charities and non-profit organisations (eg Macmillan Cancer Support, public health agencies), and the private sector (eg the food industry, corporate wellness organisations).
A wide range of careers is offered by these employers. Our students go on to become: public health project officers; researchers; health promotion specialists; public health scientists; public health data analysts and evidence reviewers; lifestyle managers; nutrition, physical activity or fitness/exercise education coordinators in research- or community-based programmes; public health and policy consultants; community sports managers; health trainers; health improvement and wellness programme officers and practitioners; health services managers; public health science communicators (eg in government or journalism).
The programme also has a professional development focus and can enhance the practice and delivery of working professionals, such as dieticians, physiotherapists, nurses, kinesiologists, physical trainers or teachers. Some of our graduates continue their studies towards a PhD degree.
Application deadline:
29 July 2021 for all applicants.
Discover the expertise and resources on offer at Bristol with our live and on-demand events.
Find out more about becoming a student at Bristol, applying for a visa and the support we offer to international students.
REF 2014 results
Sport and Exercise Sciences, Leisure and Tourism:
58% of research is world-leading

(4*)

42% of research is internationally excellent

(3*)
---
Results are from the most recent UK-wide assessment of research quality, conducted by HEFCE. More about REF 2014 results.