View all news
Crisis and Survival in Late Medieval Ireland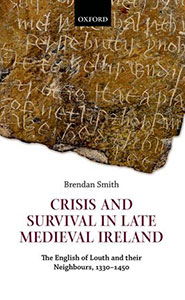 18 July 2013
Brendan Smith
Crisis and Survival in Late Medieval Ireland explores the development of English settler society in Ireland between 1330 and 1450.
This period saw the settlement threatened by the outbreak and frequent return of plague, as well as by the persistent attacks of the native Irish. The colonists identified themselves as representatives of English civilization in Ireland and maintained close ties with England. But living on the frontier also required them to engage deeply with Irish culture, and encouraged their self-awareness as a distinct colonial group.
In launching the book Professor Art Cosgrove, President of University College Dublin (1994-2003) and editor of A New History of Ireland, Volume II: Medieval Ireland 1169-1534 (Oxford, 1987) noted its use of unpublished manuscript material and praised its detailed analysis of an underwritten period of Irish history.
In response, Dr Smith thanked the University of Bristol and in particular the Bristol Institute for Research in the Humanities and Arts (BIRTHA) for its support in researching and writing the book. He also paid tribute to Professor Jim Lydon, his PhD supervisor at Trinity College Dublin, who died on 25 June 2013.
Crisis and Survival in Late Medieval Ireland by Dr Brendan Smith is published by Oxford University Press, £65