View all news
Inside the Illicit Economy: Reconstructing the Smugglers' Trade of Sixteenth Century Bristol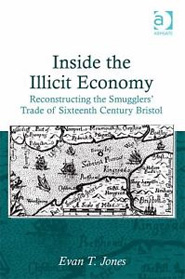 1 June 2013
Evan Jones
Evan Jones
Published by Ashgate.
From the moment governments began making money from levying duty on imported goods, a smuggling trade developed to avoid paying such taxes. Whilst the popular image of historic smuggling remains a romantic one, this book makes clear that the illicit trade could be a large-scale and systematic business that relied on the connivance of well-connected merchants.

Taking the port of Bristol as a case study, the book provides the most sophisticated historical study ever undertaken of the smugglers' trade, in England or abroad. Following on from the author's prize-winning article in Economic History Review, the volume employs the business accounts of sixteenth-century merchants to reconstruct their illicit operations. It presents a detailed analysis of the merchants' illegal businesses, assessing how individual merchants, and Bristol's commercial class, were able to protect their contraband trade. More fundamentally, it examines how and why the illicit trade developed, why the Crown was unable to suppress it, and the role smuggling played within Bristol's wider economy. Through an investigation of these matters the study explores a world that has long attracted popular interest, but which has always been assumed to be immune to serious historical investigation. The book offers a pioneering study, demonstrating that a detailed examination of a particular time and place, based on a close and integrated reading of both official and private records, can make it possible for historians to investigate illicit economies to a greater degree than has previously been believed possible.