Life as an English student
Recent graduate, Tamara Pullinger, discusses her experience of being an English student at Bristol.
I started to really enjoy English Literature while studying Shakespeare at GCSE. I was intrigued to find that many of the people in my class had different interpretations, all of which were valid, and it allowed me to understand the variety of interpretations that texts can have.
While at School, I had the opportunity to complete Access to Bristol, a scheme for local sixth form students to see what lectures and seminars would be like. I was surprised and delighted to get into Bristol, especially as it was a Russell Group University with a high standard of teaching and research.
What did you enjoy most about studying your current course or programme?
There are a few things I enjoyed most: the tutors and lecturers - I found them to be very approachable, knowledgeable, and passionate about their subjects. I built up a good rapport with a few tutors in particular and was able to keep in touch for references and further advice. The variety of modules was also good. One tutor called it a 'chocolate box approach', in which you can pick from lots of modules (in second and third year) and create a programme that is tailored to your interests. There was a lot to choose from including some more modern modules such as environmental humanities that catered for an emerging interest in the environment. The format in the first year follows the evolution of literature from 1150 through to the present day in second year and is a good way of beginning the degree. I was able to see how language has changed over the centuries and really feel I was starting at the beginning. The lecturers on the Medieval language and literature modules were also very enjoyable to listen to in lectures, as the word pronunciation varies from the modern, and it felt theatrical and impassioned.
One of the modules I particularly enjoyed was Celebrity Cultures in the third year. I had two assignments that differed from the 'typical' English Literature essay. These were a review of a portrait of a celebrity and a review of an item of cultural significance. I chose Angus McBean's portrait of Audrey Hepburn from 1950, and Marilyn Monroe's iconic pink dress from the film 'Gentleman Prefer Blondes'. I enjoyed the creativity and difference that these assignments allowed compared to essay writing, but as they still had an element of critical analysis and reviewing, I was able to connect the assignment to the English degree.
Why is English Literature a good subject to study at Bristol?
English Literature is more than just reading poetry and novels. Many of the modules at Bristol explore historical context, politics, sociology, and the study of people. It means you get a good understanding of the political and historical context of the authors and the time in which they were writing. The course at Bristol also offers a good overall understanding of English Literature through the modules on different periods of literature to the present day, and within these, you can find a niche that you enjoy. There were also interdisciplinary opportunities to choose from too, for example digital humanities.
The workload was manageable with varied assessment methods such as essays, book reviews and presentations. I gained lots of transferable skills too, such as how to present myself with confidence, working in groups and teams, expressing and articulating myself, computer literacy and written skills. Potential routes or job opportunities include languages, teaching, law, other humanities subjects, and creative writing.
Bristol is also a very lovely to city to live in but be mindful of how hilly Bristol is!
What are your career plans or aspirations?
Studying my degree at Bristol solidified that English Literature is the right course for me, and that further study was the next step. I was particularly inspired by my personal tutor, who was also one of my lecturers/seminar tutors. I found her teaching to be very engaging and it inspired me to think about the pathway of teaching myself. I decided to apply for the Master's in English Literature at Bristol to gain more knowledge and have a good overview of the subject.
I am set to begin an MA in English Literature in September. I would then like to complete a PGCE and go into secondary school teaching for English Literature, and potentially explore the option of university teaching.
What makes Bristol a good city to study arts and humanities?
There are lots of opportunities for students and a thriving nightlife, as well as museums and galleries, film festivals and concerts, and theatres and live music. There is a culture of arts and humanities embedded in lots of the activities around Bristol, and an opportunity to explore more and make connections for future roles.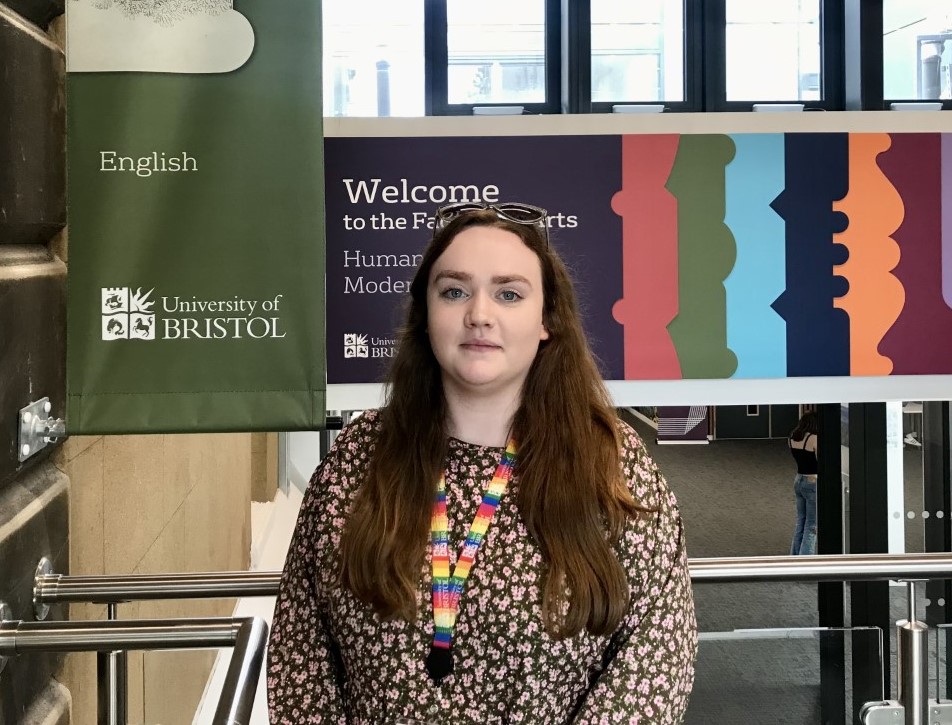 See a list of all English degrees at Bristol, and find more information about the course, assessment and career prospect
Request more information
Ask us a question, sign up for our updates or request a prospectus.