Working together to improve infrastructure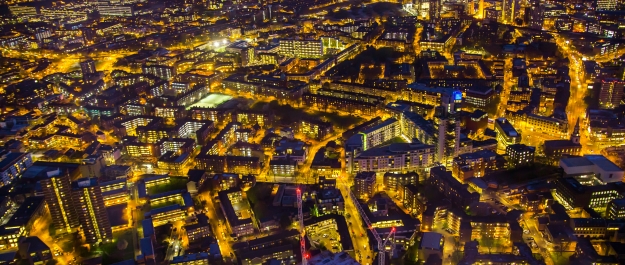 The shortcomings of our urban infrastructure may be costing the UK £2 million every day. We know we need better value, but a lack of understanding is holding us back.
The challenge
If we're going to adequately prepare for what the future of our growing cities holds, we need to know that our infrastructure can be resilient to extreme events, adaptable to changing circumstances and contexts, and accessible and affordable for everyone.
It's hardly a contentious aim, but achieving it is a serious challenge because we don't have sufficient knowledge to fire the innovation we need. Which is why right now, infrastructure is leaking money: without evidence to back up a new idea, it makes sense that few investors or policymakers are willing to take risks.
What we're doing
We're one of 14 founding partners of UKCRIC, the UK Collaboratorium for Research in Infrastructure and Cities, and co-recipients of an initial £138m funding that's providing new facilities for research into the sustainability, resilience and function of infrastructure and cities.
Two of these facilities, the National Soil-Foundation-Structure Interaction Facility (SoFSI) and the Bristol Infrastructure Collaboratory, are hosted and led here at the University of Bristol.
SoFSI is tackling our limited understanding about the interaction of structures, like offshore wind turbines and rail tracks, with the surrounding soil. At present, this knowledge gap leads to conservatism in design, construction and operation and drives up costs while suppressing innovation.
Our large, world-leading facility, incorporating a 50-tonne shaking table, enables us to conduct detailed prototype research that aims to remove some of the investment risks prohibiting innovation; as with pioneering techniques to extend the life of buildings, for example.
At the Collaboratory, we're working with citizens, local government and industry partners to investigate how city infrastructure systems interact with each other and with people. By mapping, monitoring and testing real urban systems, we'll discover how they can be refined in future. We and our UKCRIC colleagues are studying a range of complex systems such as low carbon energy networks, transport infrastructure and flood management.
How it helps
By working alongside a community of fellow academics and stakeholders on a structured, national project, we expect to generate technologies and solutions that reduce the risk of, and add value to, future infrastructure investment. We intend infrastructure to become more resilient and its ownership to become cheaper. And in a global market expected to be worth some $57 trillion in the period to 2030, there's enormous export potential for UK expertise in this field too.

Lead researcher profile
Professor Colin Taylor, Professor of Earthquake Engineering

Partner organisations
14 universities as part of UKCRIC