Working with city-level policy makers to reduce malnutrition in Asia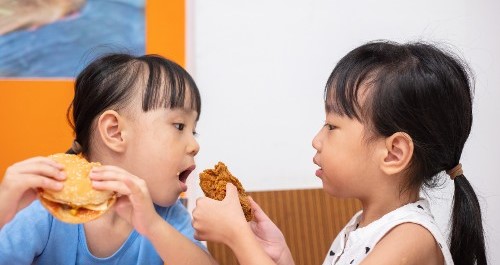 How can we tackle malnutrition - the leading cause of disease and mortality globally and in Southeast Asia?
The challenge
Malnutrition, which includes both obesity and undernutrition, is the largest cause of disease and premature death globally. Its health impacts are twice as high as that of tobacco use and high blood pressure. Different forms of malnutrition share systemic causes and solutions linked to the same food systems and urban environments, but the challenge is rarely addressed in an integrated way. To effectively tackle this largely preventable public health crisis, a systems approach is urgently needed.
What we're doing
We're delivering an ambitious research project which promises to address the common drivers of both obesity and under-nutrition in China and Southeast Asia. Recognising the connections between different forms and causes of malnutrition we are demonstrating that by developing systemic solutions to tackle undernutrition, governments and policy-makers can also prevent obesity and non-communicable diseases, such as cancer, diabetes and stroke.
The approach is known as double-duty, and involves identifying interventions, programmes and policies that can simultaneously reduce the burden of both undernutrition and overweight, obesity or diet-related non-communicable diseases.
The study is being piloted in the Chinese city of Fang Cheng Gang. Local decision makers will own the process of intervention development and form local 'delivery Action Groups' to maximise feasibility, impact and sustainability.
How it helps
We are experiencing a syndemic of obesity, undernutrition and climate change; three pandemics occurring at the same time which combine to increase the burden of disease. But these pandemics share common causes and solutions. By using a systems approach, we are developing population-level interventions that can address the double burden of malnutrition and environmental issues at the same time.
Effective, population-level malnutrition interventions will help to reduce morbidity and mortality in children and adults while improving their quality of life. Optimising nutrition early in life can help ensure the best possible start in life with long-term benefits.
This is a long-term research programme. Phase one is currently funded by the Medical Research Council. For the next phase, we welcome more leading experts from non-health disciplines (such as sustainable agriculture, climate change, city planning, transportation, computational modelling etc) to join this ambitious, long-term research programme.
Investigators
Dr Bai Li, University of Bristol
Professor Boyd Swinburn, University of Aukland
Professor Poh Bee Koon, Universiti Kebangsaan Malaysia

Lead researcher profile
Dr Bai Li, Senior Lecturer in School for Policy Studies
Partner organisations
Chinese health authorities
Aukland University
Universiti Kebangsaan Malaysia
Global Obesity Centre, WHO Collaborating Centre for Obesity Prevention, Deakin University
Guangxi Centre for Diseases Prevention and Control
Guangxi Medical University
Health Ministries in Southeast Asia