Exploring our changing ice environments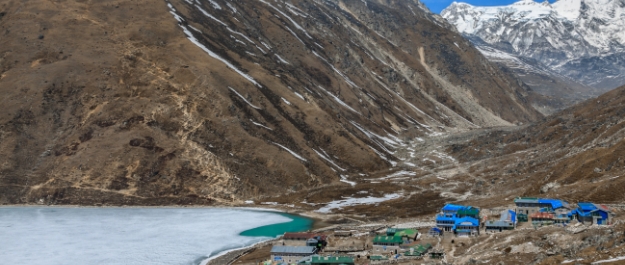 As our ice sheets melt, the Earth's ability to regulate its own temperature diminishes, and sea levels rise. But it's not just ice in Antarctica and Greenland we need to focus on – how can we help the people who rely on mountain glaciers to prepare for a future with less water, and possibly less food as a result?
The challenge
The glaciers of Switzerland, the Himalayas and Canada, coupled with the continental ice sheets of Greenland and Antarctica, form a core part of the world's cryosphere - the icy environments which are vital to ecosystems and coastal communities. The ice sheets of Greenland and Antarctica contain 99.5 per cent of the global land ice volume and play a major role in regulating the Earth's temperature by reflecting heat from the sun.
As global temperatures escalate, melting glaciers and ice sheets contribute to sea level rise, affecting 200 million people living on or next to the coast. They face the prospect of mass displacement, social and political fragmentation, a reduction in freshwater and diminished resources.
What we're doing
Our experts in social sciences, history, international policy and law, geology, engineering and biological sciences are working on a series of projects to understand how agricultural practices, international law and societal structures might be adapted so as to protect the livelihoods of indigenous populations as well as those forced to relocate due to climate change.
We are working across disciplines and continents to explore:
How to turn sediments from melting glaciers into a slow-release fertiliser (see project: Glacial flour power)
The impacts of shrinking Patagonian icefields on fjords and coastal ecosystems (see the PISCES project)
Which communities are most at risk of reduced meltwater supply and recommend practices which help them to better manage their water supplies (read more about this project)
Monitor glacier run-off to explore its impact on ocean nutrient levels (project: ICY-Lab)
How justice, ethics and governance in icy environments is affected by climate change
Historical government water policy and local responses to previous floods and droughts to see what it can teach us for the future in communities affected by glacial meltwater (read more about this project).

Multidisciplinary collaboration is a core component of our wide-reaching expertise and will play an important role as we help communities worldwide consider how to safeguard themselves against the societal and environmental changes that lies ahead.
How it helps
If our studies in the Hindu-Kush Himalayan region prove that a slow-release fertiliser found in glacial sediments can bolster sustainable agriculture, then we have the potential to positively impact around a fifth of the world's population. In Patagonia and Greenland, we are improving the resilience of their coastal communities by helping to understand how oceanic nutrient cycling affects them locally and how we can help to shape policies that protect their ecosystems and fisheries. Globally, we are providing advanced
Crucially, we apply historical and social expertise to make the case for inclusive decision making, and advocate for procedural justice. In doing so, we hope to involve the people affected in the decision-making process who are a key determinant in the success of any practical or political solutions.
Contributors:
There are a large number of contributors to this research area within the Cabot Institute, including (but not limited to):
Professor Alexandre Anesio - glacial microbiology
Professor Adrian Hawkins - antarctic history
Professor Jonathan Bamber - cryospheric processes
Dr Kate Hendry - silicon cycling in the oceans
Dr Alix Dietzel - philosphy and climate change
Dr Marghertia Pieraccini - environmental law
Prof Gary Barker - bioinformatics, environmental genomics, glacial microbiology
Dr Daniel Haines - environmental history
Professor Martyn Tranter - polar biogeochemistry
Professor Mark Jackson - arctic coloniality
Professor Anthonny Payne - glaciology

Lead researcher profile
Professor Jemma Wadham, Professor in Glaciology
Partner organisations
Research Center of Patagonian Ecosystems (CIEP)