Resolving the energy trilemma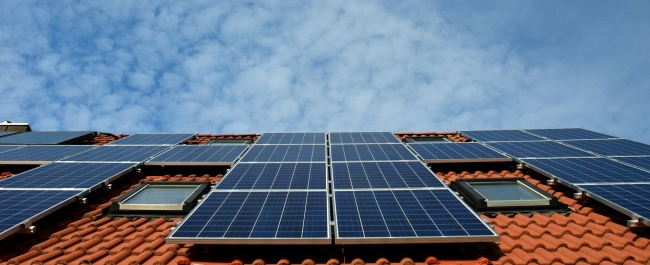 How do we redress the balance between energy security, environmental sustainability and social impact?
The challenge
The civic energy sector carries enormous potential for contributing to the UK's effort to reduce greenhouse emissions by a target of 80 per cent by 2050. Non-commercial energy producers and distributors such as community energy groups, co-operatives, charities and local authorities, are already turning to sustainable alternatives. For instance, with almost 900,000 solar PV installations across the UK, previous studies have confirmed that there is clearly scope to review and expand the UK's non-commercial capacity for renewable energy.
However, relatively little is known about the breadth, distribution and probable impacts of the civic energy sector at a social and environmental level.
What we're doing
Supported by a scholarship from NERC and ESRC, Sam Collier hopes to fill that knowledge gap. Over the next three years, he will conduct a spatial analysis alongside a case study review to scope the scale and distribution of the UK civic energy sector, using data from sources including Ofgem's Feed-in quarterly reports, which record how households and businesses are paid for generating their own electricity through the use of methods such as solar PV.
He will also explore the lifecycle of small-scale solar PV technology and the social and environmental impacts it will have all the way from production, through use to disposal.
One of Sam's core objectives is to explore how a genuinely democratic approach to renewables can help resolve the energy trilemma, by way of redressing the balance between energy security, environmental sustainability and social impact.
Currently, those households who participate in small-scale renewable and low-carbon electricity generation, using technologies such as solar PV, are generally the ones who can afford to do so, which adds to rather than remedies the problem of energy poverty and disproportionate distribution.
How it helps
"There's more to the energy transition than just generating low carbon energy," says Sam.
"I hope this research will provide important insights for the development of a local energy system, where a more democratic form of energy provision can provide benefits for all involved. Greater understanding of the civic energy sector and its potential for energy futures in the UK, particularly related to the energy trilemma, should also offer important policy insights."
Investigators
Sam Collier, PhD Student
Dr Jo House, Reader in Environmental Science and Policy, School of Geographical Sciences, University of Bristol
Professor Rich Harris, Quantitative Social Geography, School of Geographical Sciences, University of Bristol
Dr Peter Connor, Senior Lecturer in Renewable Energy Policy, University of Exeter

Lead researcher profile
Funders
ESRC
NERC
PhD scholarship
Sustainable Futures via South West Doctoral Training Partnership
GW4+ Doctoral Training Partnership