Quantifying the role played by animals to forest recovery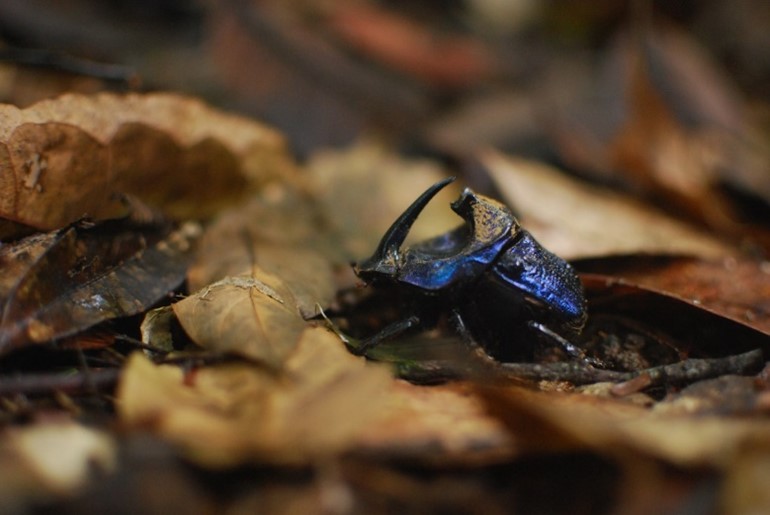 The conservation of tropical rainforests is one of the most cost-effective solutions to slow down climate change.
The challenge
Climate change and biodiversity loss are major societal challenges that must be tackled together for achieving global sustainability and conservation targets. Yet, studies on climate-biodiversity relationships in the tropics are mostly based on short-term investigations and research focused solely on vegetation and carbon dynamics in previously undisturbed forests.
To fully understand the future of tropical forests, we also need faunal biodiversity data and research that considers the interacting impacts of local human-driven and climate-associated stressors for biodiversity, as well as the contribution of animals for post-disturbance forest recovery.
What we're doing
Our BioClimate project is investigating how animals and biotic interactions influence the post-disturbance trajectory of climate-affected and human-modified tropical forests.
We are adopting both well-established (i.e. camera traps and field observations) and novel methods (e.g. bioacoustics recordings and ingested DNA) to monitor vertebrates and invertebrates, their trophic interactions and contribution to seed dispersal and frugivory processes.
How it helps
Understanding the role played by animals in the maintenance and post-disturbance recovery of Amazonian forests is essential to develop evidence-based policies that help to preserve tropical forests under a changing climate.
Our final goal is to produce scientific evidence to inform the management of degraded primary forests and recovering secondary forests in the era of anthropogenic climate change and climate extremes. The expected management recommendations are all linked to existing environmental legislation in Brazil, and include novel insights into the importance of tackling local stressors during extreme climate events and ensuring fauna to support forest recovery.
Investigators
Principal Investigators
Professor Jos Barlow (Lancaster, UK)
Dr Filipe França (Bristol, UK)
Dr Alexander Lees (Manchester Metropolitan, UK)
Dr Joice Ferreira (Embrapa, Brazil)
Contributors
Dr Erika Berenguer (Oxford / Lancaster, UK)
Dr Yves Bas (MNHN, France)
Dr Oliver Metcalf (MMU, UK)
Msc. Jackeline Spínola (ICMBio, Brazil)
Msc. Thiago Medaglia (Ambiental Media, Brazil)
Professor Fernando Z. Vaz-de-Mello (UFMT, Brazil)
Professor Jerome Sueur (MNHN, France)
Professor Pedro Galetti (UFSCar, Brazil)
Professor Yadvinder Malhi (Oxford, UK)

Lead researcher profile
Dr Felipe Franca, Lecturer