Archiving oil - an artistic exploration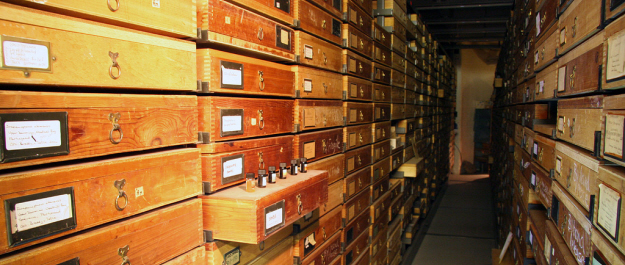 Fossil fuels, oil in particular, have entirely shaped our evolution since the industrial age. How can art and science combine to spark a dialogue around our relationship with oil?
The challenge
Of all substances, what is more ubiquitous than oil? It touches every aspect of our lives, landscapes, economies and politics. It impacts in some way on every area of research within the Cabot Institute. And yet it is almost unseen or hidden away from curious eyes.
What we're doing
In an attempt to make oil's presence more visible, Artist in Residence Neville Gabie and Cultural Geographer Merle Patchett installed a series of artworks in the Geology Collection basement stores to archive the ways in which oil permeates and sediments itself within our research and wider worlds. This included the premiere of a series of short films that Neville created in response to the experimental scientific work of Cabot Institute researchers.
Images from Archiving Oil on Flickr A blog about the evening
In addition to 'Archiving Oil', Neville also developed two other artworks in response to these interactions with Cabot Institute academics from 2012-2014, including 'Experiments in black and white', the 'Oil Common Room', and 'Collective Breath' which was previewed at the WOMAD festival in 2014.
How it helps
The artworks serve to highlight our deeply entwined relationship with the oil and show us that all our lives are affected by oil in many different ways. Through collaborations with scientists, Neville was able to provoke deep reflection on our oil-based economy, and cause us to evaluate the diverse range of possible responses to it.
Here are some testimonials:
"A very welcoming and interesting event without being too technical. Seeing the vast collection in the basement."
"It was amazing seeing all the minerals and rocks, especially of close and being able to touch them"
"Very good - eyeopener, fascinating."
"Fascinating to see oil and the products it makes. Original."
"Thought-provoking. Pervasive nature of oil in society and our reliance on it"

Artist in residence
Neville Gabie, artist