The BDFI Board
Our External Steering Board and Chair are responsible for overseeing all strategic and operational decisions. We are pleased to have a diverse range of representation from our partners. They will play a leading role in advising on BDFI research strategy, helping to disrupt the traditional patterns of innovation and adoption, and supporting BDFI's ambition to drive digital technology creation fit for the future.
Chair
Jeremy Silver, CEO Digital Catapult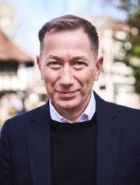 Jeremy Silver is an entrepreneur, author and angel investor. He is a Trustee of the British Library and a member of the UK Creative Industries Council. Jeremy sits on the boards of HammerheadVR Ltd, Imaginarium Studios Ltd and FeedForward.AI. He was previously Executive Chairman of Semetric, Founder CEO of Featured Artists Coalition (FAC), a strategic advisor to Shazam and CEO of Sibelius Software. Jeremy was Worldwide Vice-President of New Media for EMI Group in Los Angeles and Head of Media at Virgin Records. His book 'Digital Medieval' is a history of the music industry online. He has spoken at TEDx Houses of Parliament, the CBI, SXSW and Midem among many trade events. He is an Industry Fellow at the University of Glasgow.
"It's a privilege to take up the role as inaugural Chair of the BDFI and to work alongside a group of such talented and respected peers. What we are building in Bristol is a vital part of new global efforts to overcome the challenges created by the first generation of digital transformation and to create instead an inclusive, responsible and sustainable framework for the future, powered by digital innovation. I'm looking forward very much to working with the rest of the Steering Board to help drive the ambitious agenda of the BDFI."
Board Members
Nick Crew, COO Airbus Endeavr. Research and Technology Manager, Airbus Defence and Space UK
As a Chartered Mechanical Engineer, Nick has spent many years delivering large complex systems and service solutions for government and commercial sectors. As a research and technology manager for Airbus Defence and Space, he works with businesses and academic institutions to inspire innovation that drives economic growth.
Carolyn Hassan, Director, Knowle West Media Centre
Carolyn is the founder and Director of Knowle West Media responsible for the overall strategy and management of the organisation. Her role is to develop external relationships and partnership working, as well as to oversee the performance of the team and the design and delivery of the overall programme.
Sado Jirde, Director, Black South West Network
As Director of Black South West Network (BSWN) since 2013, Sado rebuilt the organisation's profile and repositioned its role from an infrastructure body to a racial justice incubator, where alternative solutions to systemic racial and socio-economic inequalities issues are developed in collaboration with the Black and Minoritised communities across the City of Bristol and the South West region.
Andrea Kells, Director, Research Ecosystem, ARM
Andrea is Arm's Director, Research Ecosystem. She is responsible for overseeing Arm's global research collaborations, with both academic and industry partners. She is also responsible for relationships with national funding agencies, national governments in the UK and US, and the European Commission, and with those setting regional, national and pan-European funding policies in areas of interest.
Keith Misson, Transformation Director for Allianz Personal Lines/LV=
Keith has worked in the Insurance industry for 23 years. His career has had one constant: change. Whether it's starting new businesses, running transformation programmes, developing new strategies or delivering new innovations, he has always focused on the changing world of people, companies and technology.
Clare Reddington, CEO, Watershed
Clare joined Watershed in 2004, establishing its creative technology programmes including Pervasive Media Studio. She become CEO in 2018. Clare works with industry, academic and creative partners from around the world to champion inclusion, support talent and develop new ideas.
Tim Whitley, MD Applied Research, BT
As managing director for applied research, Tim is accountable for all of BT's global research activities. He is also managing director for Adastral Park, HQ of BT's global research and engineering, and home to one of the largest technology clusters in the UK.
Nik Willets, President and CEO, TM Forum
Nik is passionate about the digital revolution and the impact technology and telecommunications can have on business, cultural, societal and environmental issues. Responsible for driving the Forum's strategy and direction, his ambition is to work closely with the world's leading executives to transform their businesses, accelerate the pace of industry change and support the transformation of the digital economy.
Terms of Reference