Protecting your interests
You make our University the success it is. We're working hard to protect your interests and benefits.
We continue to listen to your feedback on the issues which affect you, as a valued member of our University. We have been focusing our efforts on a number of key areas which we know are important to you:
Casualisation

Workload
Equality and diversity issues
Pay and Pensions
There is more to do, but we are committed to continuing the progress we have made relating to these areas, and others. Read on to learn about the improvements we've been making.
If you have any questions or would like to talk to us about what we're doing, you can make contact via internal-comms@bristol.ac.uk and your query will be directed to the most appropriate team.

Casualisation
Casualisation in the workplace occurs when permanent roles are replaced by short-term or casual/hourly paid contracts. We have continued to review the balance of fixed-term and hourly paid contracts across the University against our business needs, resulting in more secure employment opportunities for more colleagues.
As an example, since 2019 we have reduced our reliance on hourly-paid  teaching staff (Teaching Support Roles) in favour of fixed-term Pathway 3 teaching colleagues.
| | | |
| --- | --- | --- |
| | TSR | P3 Teachers |
| 2018-2019 | 1685 | N/A |
| 2019-2020 | 1504 | 568 |
| 2020-2021 | 1388 | 601 |
| 2021-2022 | 1343 | 678 |
| 2022-2023 | 1123 | 777 |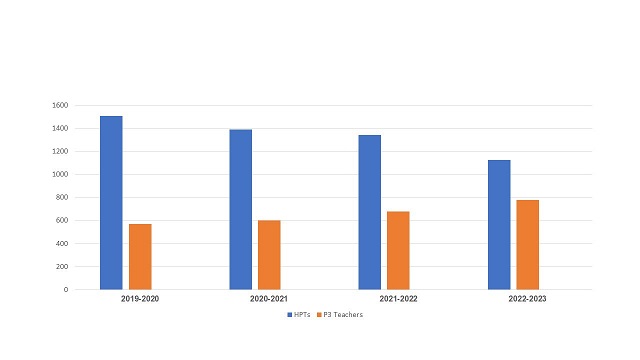 Figure 1: Bar chart showing the reduction in Teaching Support Roles in favour of P3 teaching colleagues.

The overall reduction in hourly-paid Teaching Support Roles across the institution since 2018 is 33%. The increase in P3 teaching colleagues since 2019 is 37%. Of these P3 colleagues, 86% are on open-ended contracts.
HR teams have worked collaboratively with schools, faculties and divisions to review their reliance on hourly paid and casual contracts. We will continue to identify where fixed-term and permanent roles should be created for sustainable teaching delivery and management of workloads.
Workload
Workload remains a challenge across our institution. We know issues around workload are critically important to colleagues, and a significant factor in staff wellbeing. While there is no one-stop solution to workload and it needs to be considered at a local level as well as at University level, we are supporting schools, faculties, and divisions in reviewing their own needs as part of the Integrated Planning Process and ensuring unnecessary bureaucracy is removed.
The University headcount has continued to grow to reflect both the growth in student numbers as well as to recognize where workloads were unsustainable. As an example of improvements at an institution level, we have built capacity into some of our academic and Professional Services teams, where there has been a critical need for more resource.
Our academic headcount has increased from 3334 in August 2020 to 3448 in August 2021, and to 3722 in November 2022, a total increase of 388 staff.
Our Professional Services headcount has increased from 4064 to 4301 in 2021 and to 4972 in November 2022, an increase of 908 staff over the same period.
In total, our main staff population (those on open-ended and fixed-term contracts) increased from 7398 to 8694, an additional 1296 colleagues since August 2020.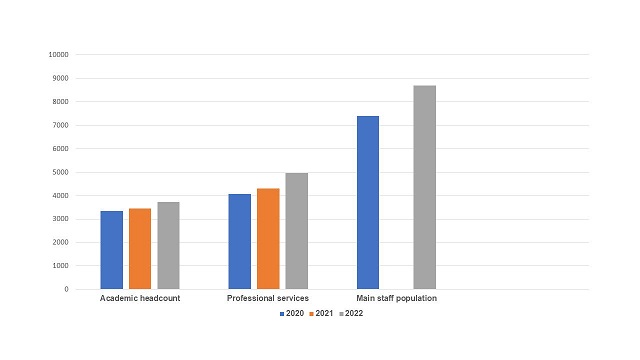 Figure 2: Bar chart showing the increase in both our academic and professional services communities, and total headcount.
We are also undertaking the following to help tackle workload across the University:
Reviewing process efficiency to identify ways of working which do not add value
Discussing with trade unions what activities we should stop
Challenging broader systemic issues through the Integrated Planning Process
Reviewing the structure of the academic year to identify opportunities to mitigate pressure points in our teaching calendar  
Equality and diversity issues
We have undertaken significant work across the institution to build a diverse and inclusive University community where colleagues from the broadest possible range of backgrounds can reach their full potential and thrive at work. 
Please refer to our Annual Staff Inclusion Report for details of progress made over the last year.  Our latest report will be available shortly.
We support fair and competitive pay for all our staff, in recognition of your commitment and hard work, which facilitates our mission as a university. Colleagues received sector pay increases this year in September, backdated to 1 August, as part of the 2022-2023 round of negotiations.  It should be noted that UCEA and our trade unions are currently in negotiation over terms of a pay deal for 2023/24, with the intention that if agreed then this might be implemented earlier than usual. At this time no deal has been reached, but as an institution we continue to support these discussions in the hope of reaching a satisfactory outcome for all parties.
We gave all staff a one-off extraordinary service payment, in recognition of work during the COVID-19 pandemic. This was £1000 for full-time staff, and pro-rata for part-time colleagues, with variable hours colleagues receiving £200.
As part of the negotiations, the Universities and Colleges Employers' Association (UCEA), who are mandated to negotiate pay settlements on behalf of employers, put forward a collective position on pay on behalf of participating Higher Education Institutions (HEIs) that seeks to maintain competitiveness, is fair and sustainable, and balances affordability across all member institutions. 
The 2022-23 national pay negotiations were concluded in the summer and the University implemented the nationally agreed salary increases. These increases were reflective of the challenges associated with inflation this year and the increase in the cost of living. Colleagues on pay points below spine point 20 of the pay scale received an increase of up to 9% and pay points at spine point 20 or above received a pay increase of a minimum of 3%. This uplift is in addition to increases arising from incremental progression on the grade structure. 
Staff employed on pay scales Grades A to M also received the national pay increase in their monthly pay for August.  
This delivers what we believe is a fair and affordable base pay increase across the sector, with higher base increases for lower pay points. We fully support the targeting of higher increases for colleagues on lower pay, and further demonstrate this with our commitment to paying the Real Living Wage. 
Like all HEIs, we believe the pay uplift carefully balances fairness with affordability, as best as the sector is currently able to achieve, and we have followed UCEA's advice to implement the uplifts due from 1 August. 
We are aware that the trade unions who participate in the national pay negotiations rejected the 2022-23 pay offer. It became evident following the dispute resolution process that an agreement on a cost of living pay settlement remained unachievable at the time.  As stated above, the 2023-24 pay negotiations are currently underway earlier in the cycle, reflecting interests both sides to help support agreeable pay outcomes for staff.
We will continue to work locally with union colleagues on matters relating to pay and conditions that are important to us all including gender and ethnicity pay gaps and security of employment. 
As many of you will have seen, on 2 September 2022 UKRI announced further details of its response to recent increases in cost of living, including plans to increase the minimum student stipend for UKRI-funded students commencing or continuing their studies from 1 October 2022. This impacted over 900 students at the University of Bristol. We are aware that UKRI has also requested that its stipend increase be matched by other funders. the academic year to identify opportunities to mitigate pressure points in our teaching calendar.
We are pleased to announce that:
We are in the process of match-funding the UKRI's 10 per cent stipend increase for those PGRs who are directly funded by the University of Bristol.
Continuing students, who receive an alumni discount of 10 per cent on their fees, will now be able to benefit from the 25 per cent discount that has been offered to those starting their degrees in 2022. From 1 September 2022, the hourly rate set for appointments to Teaching Support roles at Grades G and H will move to the next spine point on the relevant scale for Grades F, G & H. This action, along with the University's implementation of the national cost of living award, announced on 24 August, will mean a pay uplift of 12 per cent for Grade F Demonstrators and 6.1 per cent for Graduate Teachers Level 1 and 2 (Grade G & H). 
Real Living Wage implemented
The University has been a Real Living Wage (RLW) employer for a number of years. A RLW update was issued on the 22 September 2022 and the implementation date is under discussion and will be made as soon as possible.
The RLW is the UK wage rate that is voluntarily paid by almost 9,000 UK businesses who believe their staff deserve a wage which meets everyday needs. The wage factors in normal living expenditure (food shopping, utilities) and unexpected spends, like unplanned dental costs, for example.
The RLW is higher than the government's minimum, or National Living Wage, and is an independently calculated hourly rate of pay that is based on the actual cost of living. We are proud to be a RLW provider and will continue to offer this wage, which is annually reviewed at a national level.
We have been advocates of the living wage since introducing it in 2018. We believe it is the right and fair thing as an employee to pay our colleagues a living wage, and this reflects our values as an inclusive and welcoming community. We always update our pay scales to reflect the real Living Wage.
You can find out more by visiting the Real Living Wage website.
(Any August 2022 University cost of living award will be adjusted to take into account this RLW increase. Incremental pay progression for our staff will be as normal.)
We understand how important a good pension is to our colleagues. Our sector's pension provisions remain a key part of the package that makes working at a university attractive and allows colleagues to plan financially for the future.
Staff have made it clear to us that the Defined Benefit element of the hybrid Universities Superannuation Scheme (USS) (open to all academic staff and those on grade J and above) is very important because of the certainty it provides when planning retirement.
In 2018, it was disputed as to whether there was a deficit in the USS scheme. We supported the establishment of the Joint Expert Panel to address this issue. As a result of that work, very few people now question whether there is a significant deficit. The current dispute now centres on the size of the deficit and how it should be addressed.
The USS Trustee (who runs the scheme), supported by the government's Pension Regulator (who acts to protect the current and future viability of pension schemes) is implementing a solution with a number of elements to shore up the scheme:
Employees and employers are being asked to pay more, but significantly less than was previously suggested.
Employers are having to make phased payments over a number of years to eliminate the deficit.
As a trade-off for these more modest increases in monthly contribution rates, employees are being asked to take a cut in benefits at retirement, ranging from 8% to 18% depending on their circumstances.
As a second trade-off, the USS Trustee will have some influence over how much individual universities can borrow over future years.
While this is not an ideal outcome for employees and employers, the USS Trustee, supported by the Regulator, insists that the changes are necessary for the long-term sustainability of the scheme.
The University has responded to all USS and UUK consultations relating to the USS and its governance. In summary of our ongoing efforts:
We've lobbied both directly and indirectly over the last few years to protect employee benefits and ensure scheme affordability for employers. We support a review of the scheme's governance and have responded with our views on changes we believe should be made to the structure and function of the governance model.
We support fair representation from members and unions, taking a balanced approach, similar to the Joint Expert Panel.
We've recently signposted colleagues to some useful resources available for USS members to better understand their pension and plan for their future – including the USS investment builder webinars
We will continue to offer opportunities for scheme members to feed back to us. We will also work collaboratively to push for an optimum scheme funding position which both makes contribution rates for staff as affordable as possible, and at the same time is manageable for university finances across the sector.
We have previously committed to working with the Bristol branch of UCU to help ensure that the March 2023 valuation is completed on an appropriate basis as expediently as possible to pass any benefit back to staff members.
All parties are trying to achieve a difficult balancing act. While Bristol and a handful of other universities have said previously that they can afford to pay more for pensions, most institutions have said that they cannot without significant job losses and cuts to services and investments. We have done our very best to influence the process, but in this context, we are bound by our collective bargaining agreement.