View all news
Bristol physicist to row across the Atlantic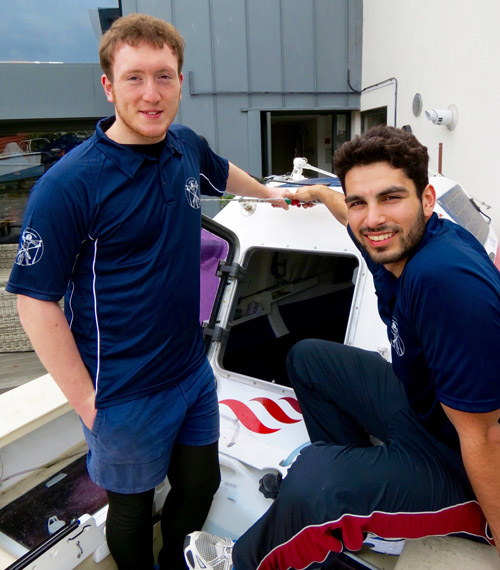 21 May 2015
More people have been sent into space or climbed Everest than those who have rowed across the Atlantic Ocean. A test of such physical endurance teamed with a wide range of dangerous obstacles unique to the vast ocean environment is not for the faint-hearted. Yet second year Bristol Physics and Astrophysics student Jay Olenicz is one of those preparing for this year's Talisker Whisky Atlantic Challenge, which at just under 3500 miles is one of the world's most arduous and intense races. Undergraduate student Aimee Nevill reports:
For Jay, there is large motivation to compete: "I started rowing at school aged twelve. So few people have rowed across the Atlantic that I really want to do it; and if I do it this year, I'll be the youngest person ever to do so. The youngest pair to ever have done it before had a combined age of 42, whereas ours will be 40."
Jay is rowing across as a pair with his close school friend, Ross Macleod, who after going to university and now working in London is also swapping to 5-12 weeks on a 7.5m long, 1.8m wide boat, containing one cabin, with no room to walk around. The race is from the Canary Islands off the north west coast of Africa, to Antigua in the Caribbean "which is a nice route, with the Caribbean at the end, just chill out in the Caribbean for a while!"
The pair are up against a wide range of physical, technical and unpredictable difficulties. "The biggest problem is the weather really (there's lots of storms, and potentially hurricanes) and your equipment; if your equipment fails you have to fix it or you're dead. So our water maker; if we can't fix it we're gone. The only way someone could come and help us is if we could get picked up by the closest vessel by putting a distress signal out, and someone will come and rescue you hopefully. It depends what the conditions are, if at the time there's a storm then it's going to be pretty hard for them to find you." That shouldn't be a problem with first year labs under your belt.
There are also other, more unexpected, hazards. "Flying fish sometimes hit you in the face so you have to wear a bucket to protect your eyes. One boat last year had a swordfish go through the side of the boat, but that is really low odds and very unlucky."
Jay and Ross will take turns of two hour shifts rowing whilst the other rests, maintains equipment, navigates, eats, washes or applies first aid. Each will consume roughly 6,500 calories daily despite burning 10,000 calories rowing. Despite the presence of a watermaker on board, the 4L of water it provides for each rower per day cannot replace the almost equal amount of fluids lost through sweat at the same time.
Preparing for these challenges requires preparation; Jay has done 24-hour rows as a publicity stunt where he lives in Poole, Dorset to raise awareness. A rigorous training regime starts in summer, and he is taking next year out of university to concentrate on the build up to the race in December, turning an intended four year degree into five years.
The Atlantic Challenge raises huge sums of donations for charity. "There was a team that did it last year who raised £300,000 for breast cancer, so there is lots of money to be raised. We're rowing for three charities. Julia's House children's hospital is a hospice in Dorset for young children with terminal illnesses, and a local charity to Ross and me, which is a way of giving back to the community we came from. There's also Brace, which funds research into Alzheimer's and dementia, and my grandma has dementia so that's a close charity to me, and Refuge, which is for domestic violence against women and children and Ross has a close, personal connection with that."
Jay and Ross start the Talisker Whisky Atlantic Challenge on 15th December 2015. Ongoing tasks include looking for corporate sponsorship to help to fund their race, and encouraging people to donate to their three charities through their website online at OarsomeOdyssey.com.