View all news
What happened when the German physicists came to stay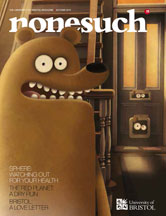 22 November 2013
The fascinating story of what happened eighty years ago when German physicists came to Bristol features in the Autumn edition of Nonesuch magazine.
Eighty years ago, in September 1933, a German physics student named Klaus Fuchs stepped off the boat at Dover with what remained of his possessions and travelled on to Clapton in Gordano, a village just west of Bristol. Several followed in his path, with important consequences for the University and for modern physics.
To find out more, see Nonesuch Autumn 2013.