View all news
The great physics bake off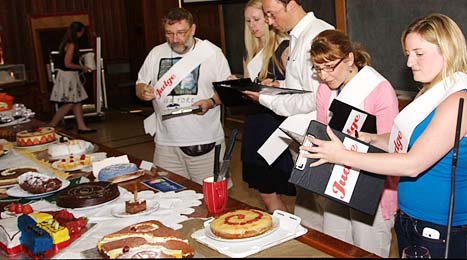 17 July 2013
Physics baking enthusiasts hold a first Physics Bake Off!
An impossible job? The judges deliberate over a table full of delicious cakes
Baking enthusiasts were battling it out in Physics last week to win the first ever Great Physics Bake Off!
Organised by PhD students Sara Carreira and Janina Möreke, and held on 11 July, the event aimed to bring people from physics and chemistry departments together for an entertaining evening while raising money for the Institute of Physics' charity IOP for Africa (supporting physics education in the developing world). 18 cakes, baked by members of seven research groups, were entered into the competition, tasted and judged by the jury, which consisted of the School of Physics' Walther Schwarzacher, Rachel Holley, Gemma Winter, Natasa Vasiljevic and Peter Barham. They judged the cakes according to their taste, decoration and creativity and the best overall individual score won a Raspberry Pi mini computer: Ian Griffiths (Micro-and Nanostructual Materials). Individual scores were added to determine the best baking research group, which was presented with a trophy for the office: Micro- and Nanostructural Materials. An extra prize was presented to Nicole Killat (Micro- and Nanostructural Materials) for the cake with best Scientific Relevance.
Finally all cakes were sold on Friday, 12 July, in the physics foyer, which saw a nice crowd of people queuing up to purchase a piece from the amazingly creative cake display. The People's Choice Award winners were determined by the cakes that sold out first: Ana Isabel Martínez Úbeda (Interface Analysis Centre), Maarten van Dijk (Particle Physics) and James Ed Darnbrough (Interface Analysis Centre). At the end of the day a final total of £453.38 had been raised for IOP for Africa and positive feedback from all round (see the blog) meant happy faces for the organisers.
This event was kindly sponsored by The Graduate School at the School of Physics, Toshiba, MGP GmbH, Pieminister and Airbus.