View all news
School of Physics Digs a Wildflower Garden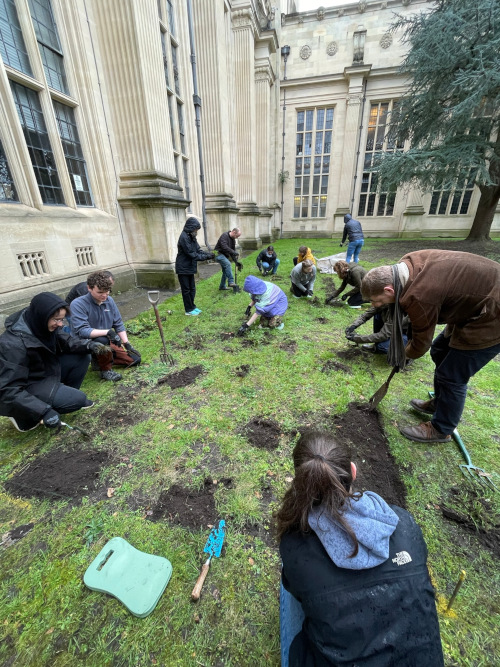 20 March 2023
The goal of the garden is to improve the biodiversity of the area and make it more attractive to wildlife.
Last week the School of Physics Sustainability Action Committee ran a very successful wildflower garden digging session. Students and staff were invited to volunteer, and despite the rain there was a very good turnout with around 15 volunteers joining in. This event was organised in collaboration with the Royal Fort Gardens estates team, who advised on the best methods for clearing and preparing the ground. They also provided tools, equipment and surplus seeds from another project. The seed mix used contains twenty two British native wildflower species, including Cowslip, Foxglove, Dark Mullein and Common St John's-Wort. It is a bee friendly mix, which will improve the biodiversity of the area and make it more attractive to wildlife.
The school dug on the same plot in 2022, but unfortunately we had limited success due to grass and weeds competing with the plants. This year we used a different method to remove all of the grass and weeds by hand. The gardening team marked the successful plants from last year using pegs so that we could dig these up and return them back into the cleared ground. The Physics student society Chaos will be organising volunteer weeding sessions in the coming weeks to give the garden the best chance of success.
We are very excited to see how this plot will transform a relatively under used area of the gardens. Thanks to all those who helped organise the dig, and to all of our hard working volunteers for making this project a success.