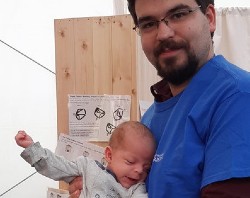 Family and Work Life Balance
The School of Mathematics is committed to creating and sustaining a friendly and welcoming environment. We highly value the diversity among our students and staff, and strive to provide a fair and supportive atmosphere where everyone can flourish.
Maths Parent Leave Process
Before
Give Notice - No later than the end of the 25th week of pregnancy
Organisational Meeting - An informal meeting with the Head of School and Line Manager
Maternity Mentoring - Connect with Maths mentors for advice or discussions
During
Funding - If you have been employed for more than 26 weeks by the 15th week before the baby is due, you have the right to statutory Maternity Pay. If you are not eligible, you can claim Maternity Allowance
Shared Parent Leave - View the shared parent leave policy for more information
Teaching and Supervision - A plan to cover teaching and supervision responsibilities will be put in place in discussion with the Head of School
Grants - Enquire early with your funding body to request an extension
After
Returning Carers Scheme - This university scheme facilitates carers who have been on leave to re-establish their career after the break. See the Parents at Work page for further information.
University Nursery - The University Nursery has a waiting list so it's a good idea to apply for a place as early as possible. The university is also affiliated with the private Woodland House Nursery
Keep in Touch Days - These allow you to officially work (and be paid for) up to 10 days during the period of leave if needed
Flexible Working - A variety of flexible working options are available for staff
Childcare - Reductions on childcare are available including the salary sacrifice scheme
Breastfeeding at Work - The School Manager can arrange a place for breastfeeding if specific facilities are not available
Recommended Reading
The Slow University: Work, Time and Wellbeing - "In the SLOW movement we find a focus upon a more reflective way of being, doing and living."
The Slow Professor: Challenging the Culture of Speed in the Academy - "Academics need to hit the brakes and work to change the system they're in."
Find out more about university policies including parent leave, flexible working, career coaching for parents and the returning carers' scheme.
Connect with others to share experiences of being Black, Asian and Minority Ethnic, Disabled, LGBT+, a Carer, a Parent or a Stammerer.