View all news
Fast-track your legal career - Q&A with our MA Director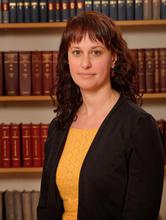 Press release issued: 4 May 2020
In this Q&A, director of our MA in Law programme and senior lecturer in Law and Feminist Theory, Dr Yvette Russell spoke to us about what it is like to study at a top 10 UK Law School, its supportive learning community and how research informs a diverse curriculum.
What is your role in the Law School?
I am a Senior Lecturer in Law and Feminist Theory at the Law School, and I am the director of our MA Law programme.
What are your main research interests and how do these feed into the postgraduate curriculum?
My research is interdisciplinary and spans the areas of the humanities and criminal law, broadly speaking. Because we have a focus at Bristol on research-led teaching my research informs almost all of my teaching, including my postgraduate teaching. I mainly teach on our Criminal Law MA course, which is compulsory for students to take in their second year. At Bristol we pride ourselves in our holistic approach to the legal curriculum which means that our students are not just learning the law on the books, but are learning how law operates in society and its historical, cultural, economic and political context.
If you could describe the learning community in the Law School in three words, what would they be?
Creative, rigorous, supportive.
What is your favourite part of working/living in Bristol?
Bristol is a wonderful city; it's the fifth city I've lived in in the UK and my favourite! It is a city that will always surprise you and one that is vibrant and welcoming. I love working at the Law School because it is filled with intelligent, creative and kind people, who are at the top of their fields. Our students are also committed and clever and push me to do my best work!
If you had one piece of advice for students applying for a postgraduate course today, what would it be?
The postgraduate taught programmes we offer at the Law School are difficult programmes, but they offer a doorway to exceptional opportunities. Those include learning at one of the best institutions in the UK, and future employment opportunities, but they also involve being part of a community where you will meet friends for life and have an experiences both memorable and rewarding.
Further information
If you have questions about our MA in law course (or any other of our postgraduate law courses), join our next Postgraduate Virtual Open Day on 7 May 2020.
Registration is free and you will have the opportunity to speak with law academics such as Keith, our Law Employability Adviser plus a selection of law students.
Register your attendance here and find out how you can do more with law.