View all news
Law Clinic Annual Review: Doing more with Law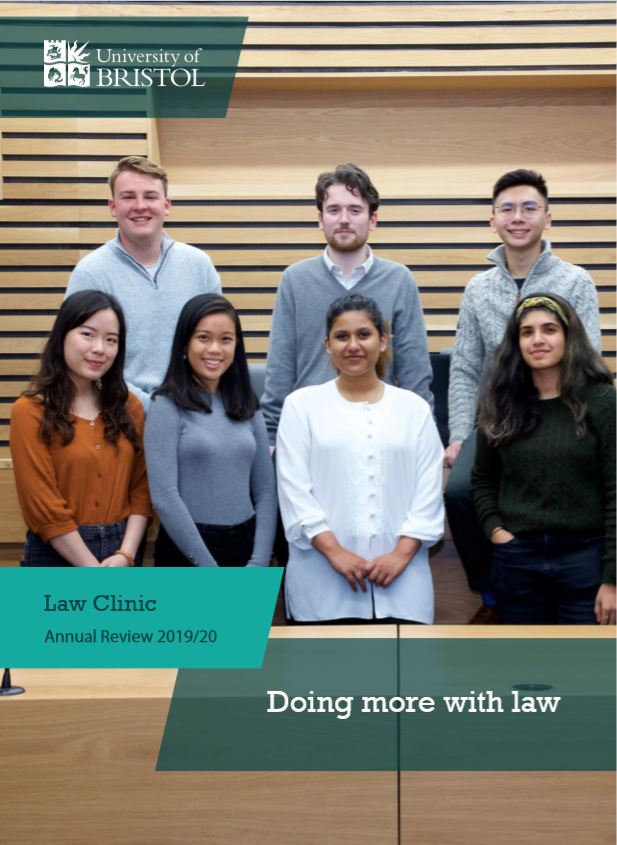 9 November 2020
Following national pro bono week (2-6 November 2020), the Law Clinic has shared its latest Annual Review. The review highlights how the Law Clinic service adapted in response to COVID-19, the essential skills students gained, and how plans to further develop its outreach work will ensure it continues to reach some of the most vulnerable people in the Bristol community.
This year's Law Clinic Annual Review 2019 - 2020 reflects a challenging year for the Clinic. Like many other organisations, the Law Clinic needed to respond to COVID-19 and rapidly adapt the way it deliveredits services and support its students.
As we went into lockdown, the Law Clinic embraced the chance to innovate and quickly established a virtual version of the Law Clinic that gave students the freedom to work on cases wherever they were in the world –whilst continuing to realise justice for their clients.
The Annual Review illustrates the remarkable impact the Law Clinic has on both the student volunteers and the people they help navigate through what is often a daunting legal process. This year, that process was often online and unfamiliar.
"I felt a lot of pressure. Undertaking a hearing by phone meant I wasn't able to navigate anyone's facial expressions or body language. However, the situation drove my confidence to speak up and value the importance of active listening. Delivering my closing statement was my favourite part - finally able to address the judge and panel members directly and argue in support of my client. It was an invaluable learning experience that makes me proud to be part of the Law Clinic." Karen San Juan, Law Clinic member.
Throughout the year, projects with outreach partners continued to be a priority. Usually reliant on drop-in sessions in the community, this area of work was most adversely hit by the pandemic and students spent time defining how it could be shaped into a virtual offering moving forwards.
"This year we have been balancing the need to keep students safe with continuing the invaluable work we do with our partner organisations. Outreach has always been about adapting our services to meet the requirements of others. Moving forward, we are determined to keep all our partnerships running. It is this work that reaches those who most need our support." Ayushi Angresh, Senior Outreach Manager, Law Clinic.
This year, the Law Clinic expandedits outreach work through partners such as CLIC Sargent, Bristol Drugs Project, and Mind – with the introduction of new initiatives with the Wellspring Settlement and One25's Peony project to help provide support to some of the most vulnerable in the community.
"Last year I worked on Peony, a project with One25. I was part of a case that helped a mother gain full custody of her children. I enjoyed this work so much that this year I am one of the Outreach Managers and overlook an entire team." Zoe Cama, Law Clinic Committee member.
Outreach work sees students encouraged to identify, develop and manage the relationships with community partners. This in turn sees them gain skills and knowledge that positively impact how they navigate life after university. This year's AnnualReview showcases some of the Law Clinic's alumni, to illustrate how the experience informs the future careers of those involved.
More than ever, this year has seen Law Clinic students face their own fears and uncertainties and go on to do more with law than they ever imagined possible in the name of justice.
"As a direct result of the pandemic, there was a significant increase in clients looking to us for advice and guidance on employment, landlord and tenancy issues. Our actions were no longer local. Clients were less geographically restricted; distance became less important and we could be more flexible in terms of what we could take on.I was immensely proud to see students replace their own concerns about a new way of doing things with a determination to resolve the issues impacting their clients' lives." John Peake, Director, Law Clinic.
Further information