View all news
Q&A with LLB law student, Grace Achiaa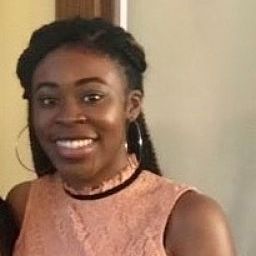 Press release issued: 15 September 2020
Ahead of our Undergraduate Virtual Open Day for prospective Law students this week, we asked current law student Grace Achiaa about why she decided to apply for the LLB Law at Bristol, her favourite part of the course, and what she has found most rewarding about her time at Bristol.
What made you decide to apply for law at Bristol?
Hi, I'm Grace and I decided to apply for the LLB Law at Bristol after having attended the Sutton Trust Summer School during my time at sixth form. I was quickly impressed by the challenging yet intellectually stimulating nature of the degree. When finalising where I wanted to study for university, I was determined to apply to an institution that ranked well academically and would push me to achieve my full potential. Bristol stood out to me instantly and presented an environment that offers fantastic career opportunities and generates well-rounded graduates.
What type of extra-curricular activities did you get involved in and what did you find the most rewarding?
I have been involved in various extra-curricular activities while being at university. I am a member of the Bar Society which has allowed me to make friends and build connections both within the legal sector and outside of law. Through this society, I had the opportunity to submit an essay in my first year for the Western Circuit Women's Forum essay competition which commemorated International Women's Day and I placed as a runner-up. I have also taken part in debates with the Law Without Borders Society and this helped me to become more confident with public speaking and reaffirm my interest in human rights.
Beyond law, I am student ambassador which has provided a work-life balance while studying and through this role I have taken part in conferences and worked as an open day steward. I am also a member of the African Caribbean Society where I have taken part in different events that align with my hobbies. There are many different societies at Bristol and extra-curricular activities one can get involved in, which further enrich the experience of studying at Bristol.
What is your favourite part of your course?
The opportunity to tailor the course around your interests has been my favourite part of the course. From my first year, I thoroughly enjoyed the Constitutional Rights module which allowed me to gain an insight into human rights and motivated me to choose modules like Medical Law and Family Law in my second year that explored this further. I have also been able to explore passions such as philosophy through the Jurisprudence module that provided more depth to my knowledge of philosophical concepts such as legal positivism and natural law that I was aware of through my studies at A-Level.
What is your favourite part of living in Bristol?
My favourite part of living in Bristol has to be the fact that Bristol has offered me a home away from home. I am originally from London and I often tell my friends back in London that there are many similarities between Bristol and London, in particular how the city is extremely lively and there is so much to do. There is a strong sense of community at Bristol and being able to attend the Bristol branch of my church has also kept me grounded in many ways and I have also relied on that community.
What advice would you give to prospective students thinking of applying for a law degree at Bristol?
My advice to prospective students would be to stay open-minded and not have a pre-conceived understanding of what studying law is like. I would also suggest that it is important start exploring your interests before coming to University. It is absolutely fine not to have it all mapped out; however, starting now will prove to be useful in the future. Also, aside from studying for a law degree, it is important to view university as a time for personal development, there will be lots of time to explore different passions and make life-long memories that will enhance your university experience.
Further information
University of Bristol Undergraduate Virtual Open Day – 15 September 2020
Thinking of applying to study at Bristol? Join a live chat where you can ask our academics and current students any questions about our undergraduate law courses and what it's like to study at the University of Bristol. We'll also be able to give you any information you need on applications and life as a student in Bristol.
Live chat
Join our text-based online chat to talk about your degree with current students.
Tuesday 15 September
Live Zoom webinar
Join us live to hear expert staff talk about your course and answer any questions you have.
Tuesday 15 September