View all news
New Law School Global Partnerships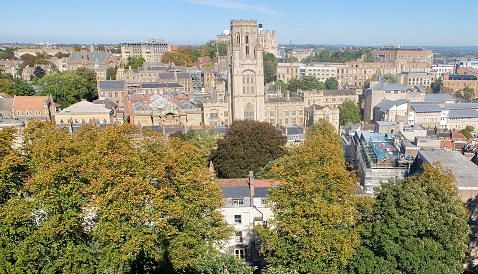 15 December 2020
The Law School has announced a number of international partnerships through the University's Global Transfer programme. The partnerships will provide talented students from China and India with the opportunity to transfer their studies to Bristol, experience a world-leading legal education and graduate with a degree from both the participating university and the University of Bristol.
The Global Transfer Partnerships provide opportunities for both undergraduate and postgraduate students and sees the Law School strengthen its long-established relationship with China, with new partnerships in a number of the country's leading universities. They also present a new and exciting opportunity for students coming from India at Jindal Global University.
Professor Tonia Novitz, the Law School's International Director, commented:
"We are really excited about these partnerships. We are committed to providing a diverse, international and inclusive community for our students, believing this leads to an exciting learning environment in which individuals with different backgrounds, life experiences and opinions come together, bring fresh perspectives, and invigorate debate in tutorials and seminars. We look forward to welcoming a new cohort of students on the programme."
Global Transfer Partnerships have been agreed with the following Chinese Universities.
• China University of Political Science
The partnership with OP Jindal Global University, located near Delhi, is the first such partnership in India for the Law School and creates opportunities for cultural exchange on the basis of a familiar, common law, legal system. We are seeking to supplement this formal partnership with other exchanges with the OP Jindal Global Law School, including a virtual visit in January 2021 (funded by the British Council in India - UKIERI).
The University of Bristol offers an exclusive scholarship to all students on these Global Exchange Programmes which reduces the standard tuition fee by 10%.
Bristol has invested £1.75 million in international scholarships for 2021, for which we welcome applications.
* The University of Bristol is one of the UK's top ten universities (QS World Rankings 2020). The Law School is a top 50 law school in the world (Times Higher Education World University Rankings 2020).