View all news
Dr. Katie Bales celebrates University of Sanctuary award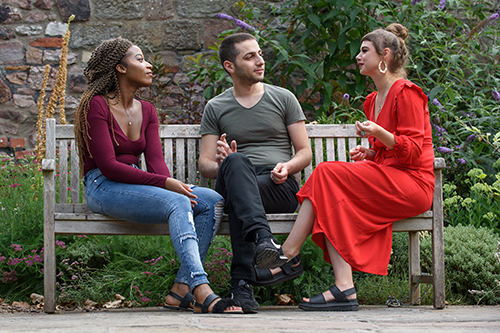 Press release issued: 30 September 2019
University of Bristol has achieved a 'University of Sanctuary' award in recognition of scholarships to refugee and asylum seekers. The initiative, led by the City of Sanctuary charity, celebrates the efforts of the University's students and staff to welcome forced migrants into their communities and promote a culture of inclusion.
Professor Judith Squires, Deputy Vice-Chancellor of the University of Bristol, said: "This is a significant achievement for the University and a proud moment for all our staff and students.
"As a city, Bristol has a long-standing tradition of welcoming and providing safety for all, including people fleeing from war, violence and persecution.
"Here at the University, we are committed to upholding these values through our academic research, through the actions of our students and, ultimately, through offering a safe and supportive environment to those who need it most."
Dr Katie Bales, a Lecturer in Law whose research centres on forced migration, labour law and the welfare state, was instrumental in setting up the Sanctuary Scholarships scheme and applying for a University of Sanctuary award. She worked with Ann Singleton (Senior Research Fellow in School for Policy Studies) and Forward Maisokwadzo (City of Sanctuary) to prepare the University's application.
She said: "This award reflects the hard work of many staff and students to create a welcoming university for those from forced migration backgrounds. Given the current political climate and hostile environment facing us, it's a reminder of what can be achieved when we work together in solidarity."
Commenting on the difficulty for students navigating the asylum system in a recent interview on BBC Radio Bristol, Katie said: "The students that we take in are phenomenal, extremely determined and desperate to pursue an education and very deserving of the places they get." She was joined by Sanctuary Scholar Sarmad Ozan.
Nicola Walters, South West Regional Coordinator for City of Sanctuary, said: "It is fantastic to be able to present the University of Bristol with a University of Sanctuary award.
"It recognises the strength of work the University is undertaking, both in terms of its teaching and research in the field of migration and human rights and the support it provides to people seeking sanctuary to enable them to access higher education."
To be given a University of Sanctuary award, organisations must demonstrate an existing commitment to welcoming and supporting sanctuary seekers and then pledge to develop this even further over the next three years.
Further information
The Sanctuary Scholarship offers opportunities for those from refugee and asylum-seeking communities to study at the University of Bristol.
The scholarship offers support towards the costs of higher education. Find out more here.