View all news
Refugees welcome: University of Bristol achieves special sanctuary award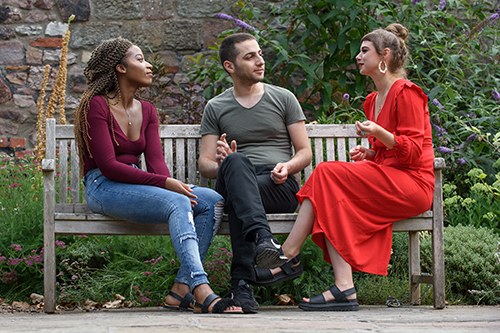 Press release issued: 25 September 2019
It was one of the first universities in the UK to offer scholarships to refugee and asylum seekers, and now the University of Bristol has achieved a 'University of Sanctuary' award in recognition of its sector-leading efforts.
The initiative, led by the City of Sanctuary charity, celebrates the efforts of the University's students and staff to welcome forced migrants into their communities and promote a culture of inclusion.
Bristol is one of only 12 universities in the country to be recognised with this accolade.
Professor Judith Squires, Deputy Vice-Chancellor of the University of Bristol, said: "This is a significant achievement for the University and a proud moment for all our staff and students.
"As a city, Bristol has a long-standing tradition of welcoming and providing safety for all, including people fleeing from war, violence and persecution.
"Here at the University, we are committed to upholding these values through our academic research, through the actions of our students and, ultimately, through offering a safe and supportive environment to those who need it most.
"In welcoming and supporting sanctuary seekers, we recognise the incredible contribution they make to both the University and to our city."
To be given a University of Sanctuary award, organisations must demonstrate an existing commitment to welcoming and supporting sanctuary seekers and then pledge to develop this even further over the next three years.
The University's pioneering Sanctuary Scholarships scheme, established in 2016, has provided 34 scholarships to asylum seekers and refugees, helping towards the cost of full or part-time undergraduate and postgraduate degrees. It is set to welcome a new cohort of scholars for the 2019/20 year.
Many of the University's staff and students are involved in refugee organisations and volunteering projects, with strong connections to UNHCR, the Refugee Council, Migrants' Rights Network, Bristol Refugee Rights and many more.
Academics from across the University – as part of Migration Mobilities Bristol (MMB) - carry out world-leading research into issues surrounding human mobility, often influencing global theory, policy and practice.
Bristol Student Action for Refugees Group (STAR) is also extremely active, campaigning for the rights of refugees, raising awareness on refugee issues, and supporting refugees and asylum seekers of all ages in the local community through volunteering.
Dr Katie Bales, a Lecturer in Law whose research centres on forced migration, labour law and the welfare state, was instrumental in setting up the Sanctuary Scholarships scheme and applying for a University of Sanctuary award. She worked with Ann Singleton (Senior Research Fellow in School for Policy Studies) and Forward Maisokwadzo (City of Sanctuary) to prepare the University's application.
She said: "This award reflects the hard work of many staff and students to create a welcoming university for those from forced migration backgrounds. Given the current political climate and hostile environment facing us, it's a reminder of what can be achieved when we work together in solidarity."
Nicola Walters, South West Regional Coordinator for City of Sanctuary, said: "It is fantastic to be able to present the University of Bristol with a University of Sanctuary award.
"It recognises the strength of work the University is undertaking, both in terms of its teaching and research in the field of migration and human rights and the support it provides to people seeking sanctuary to enable them to access higher education.
"It was incredibly clear from the award appraisal process that the University has strong community links and has built good relationships with organisations supporting people seeking sanctuary in the local area.
"Congratulations to the University of Bristol on this achievement, I am looking forward to working with them as a University of Sanctuary in the future and continuing to build on their culture of welcome."
Bristol was awarded City of Sanctuary status in 2010. It's an initiative led by people living in the city who are committed to making Bristol proud to be a place of safety, as well as creating opportunities for those seeking sanctuary to participate fully in the life of this city.
Case study
Sarmad Ozan, came to the UK from Iraq in 2015 after ISIS took over his hometown of Mosul the previous year. He'd previously completed a BSc in Computer and Information Engineering at Mosul University and wanted to continue his studies and move on in life, away from the destruction he'd witnessed.
A Sanctuary Scholarship allowed him to do an MSc in Wireless Communications and Signal Processing at the University of Bristol and he's now undertaking a PhD. In the future, he hopes to use the expertise he's gained at university to work on improving telecommunications in the UK.
Sarmad said: "It allowed me to continue with my studies even when I was told I couldn't because of my status in the UK. I've gained so much knowledge from the University even outside my course. I've played basketball for the University and attended careers fairs and skills workshops.
"I'm so grateful I was able to continue on to postgraduate education and I've grown in confidence as a result of the opportunities this scholarship has given me and hope to be able to help in the university as they helped in this stage of life."