View all news
Law Students reach quarter-finals of the University of Leicester Medical Moot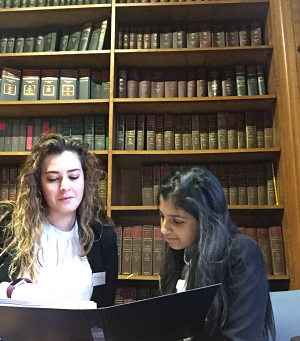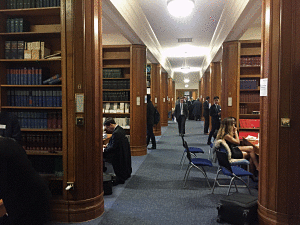 Press release issued: 7 December 2017
On 2 December two second-year Law students from the University of Bristol reached the Quarter-Finals of a national Medical Law Mooting Competition organised by the University of Leicester.
Second-year Law students Alice Grimley Evans and Priyani Singanayagam participated in the annual Medical Law Mooting Competition organised by the University of Leicester and sponsored by One Crown Office Row, a leading healthcare law and clinical negligence set.
The competition was held over the course of one day comprising of five rounds. Students from 20 Universities were expected to prepare both sides of the mooting problem related to wrongful conception – a topic not covered in the Medical Law module at the University of Bristol. After the first two rounds points were accumulated for every team and those with the highest scores proceeded to the Quarter-Finals.
The Bristol team placed in the top eight, at which stage the competition reverted to a knock-out format. Bristol's students narrowly lost to a couple of Master of Laws students from UCL who eventually won the mooting competition.
Alice Grimley Evans, lead counsel, said: 'It was an invaluable experience to represent the University that has re-affirmed my aspiration to become a barrister. Both Priyani and I would like to thank the law school for their hard work in organising our participation and for the financial support that was provided.'
Further information
Mooting is part of the Law School's Advocacy Programme, designed to give students an opportunity to combine their academic studies with a taste of what it is like to be a real lawyer.
To find out more about the University of Leicester's annual Medical Law Mooting Competition please click here.