View all news
Professor Phil Syrpis features in 'Brexit: the University Challenge' Nonesuch Article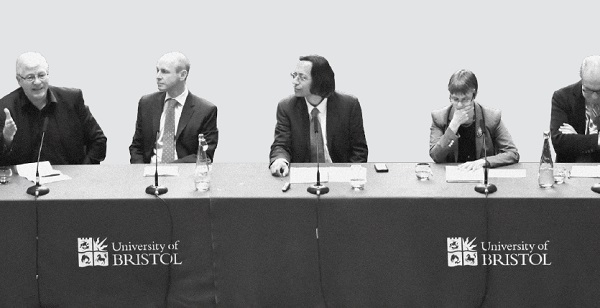 Press release issued: 14 November 2017
Professor Phil Syrpis was featured as one of four Bristol experts in an opinion article discussing the uncertainties faced by universities in the wake of the EU referendum.
In his opinion piece in the Autumn 2017 edition of Nonesuch magazine, Professor Syrpis touches on the impact of Brexit on all areas of university work, from student mobility to research and funding. He discusses how the multitude of uncertainties raised by the referendum have led to an increased interest in the work of academics with a research speciality in EU law, with such academics seeing a marked rise in new audiences for their work alongside requests to contribute to talks and committees to share their expertise.
In his discussion of the challenges and opportunities posed by Brexit, Professor Syrpis stated:
"All too often, the role of academics has been restricted to ad hoc appearances before Select Committees, but there are signs that this might be changing. There seems to be an appetite within Parliament for new ways of engaging with academia. […] If we fail to adapt and engage we will be left only to criticise the resulting policy, instead of helping to form it."
The article also includes opinion pieces from three more experts: Katya Adler (Broadcast journalist and BBC Europe editor), Dr Erik Lithander (Pro Vice-Chancellor, University of Bristol), and Dr Nieves Perez-Solorzano Borragan (Senior Lecturer in European Politics, University of Bristol).
To read the full article please click here.
Further information
Professor Phil Syrpis is an expert on the EU treaties. He has been filmed talking about the triggering of Article 50 and has published academic research on a wide range of subjects relevant to Brexit, including EU employment law, EU trade law, free movement, the Court of Justice of the European Union and the European Union's institutional framework. In the wake of the referendum result, Phil Syrpis has been using his expertise to contribute to public engagement and policy briefings, producing a number of articles and blog posts on the EU law questions surrounding Article 50, including in relation to the Miller litigation. These have included a Policy Briefing and blog post for Policy Bristol, contributions on the eutopialaw.com blog, and participation in the Guardian's 'Brexit Means' Podcast.
For further information about legal news, events and research related to Brexit please visit the Law School's Brexit Centre website.