View all news
New research shows paid McKenzie Friends operating mostly outside the courtroom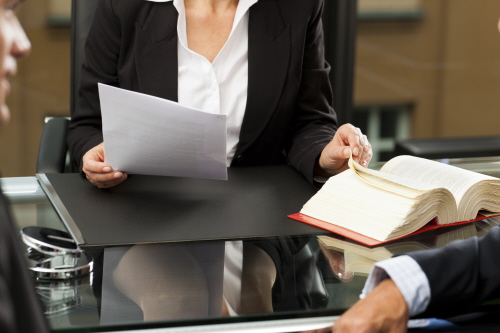 Press release issued: 13 June 2017
New research published today by the Universities of Cardiff and Bristol shows that the bulk of work undertaken by paid McKenzie Friends is delivered outside court, with very few seeking actively to represent their litigant in person clients in the court room.
A McKenzie Friend is someone who assists someone who isn't represented by a solicitor or barrister in a court of law in England and Wales. This person does not need to be legally qualified.
A study of fee-charging McKenzie Friends and their work in private family law cases [link to PDF] reveals that paid McKenzie Friends vary in their motivations, ranging from 'business opportunists', through 'good Samaritans' to 'family justice crusaders' and 'rogues'.
It also reports evidence of a growing body of 'redirected professionals', who are switching from traditional legal practice to unregulated McKenzie Friend work.
The research, carried out by legal academics Dr Emma Hitchings from the University of Bristol, Dr Leanne Smith from Cardiff University and independent legal researcher Mark Sefton, found that most paid McKenzie Friends prefer not to represent their clients in court.
Instead, they predominantly offer legal advice and personal support to clients before a case goes to court. In some cases, paid McKenzie Friends, many of whom, according to the study, run their schemes from their home, opt to pass the case on to a direct access barrister when the client needs the specialist assistance of a qualified lawyer.
In revealing the practices of some of those observed, the researchers reported: "We were told that many McKenzie Friends refer clients to other family justice professionals, particularly direct access barristers, for specialist assistance when it is required and several client interviewees also suggested that this was the case. That said, in the court observation stage of the research we saw some evidence of McKenzie Friends whose active efforts to exercise rights of audience presented difficulties."
Among the McKenzie Friends in the study, the report explains that there was evidence of a strong orientation towards settling cases outside court, and a majority had gleaned some knowledge and procedural awareness from their experience to enable them to mitigate the difficulties experienced by many unassisted litigants in person. However, the study also found that McKenzie Friends vary in their perceptions of which tasks fall beyond the boundaries of their proper role.
The researchers also concluded that 'there is enough that is concerning in relation to fee-charging McKenzie Friends to merit efforts to tackle the worst of the sector and a more detailed evaluation of their services than this study afforded would also be welcome'.
Commenting on the new research, which was commissioned by the Bar Council, Chair of the Bar, Andrew Langdon QC, said: "This new research paints a mixed picture of the kind of service litigants can expect from paid McKenzie Friends. It is particularly interesting that the courtroom - where the very concept of McKenzie Friends as 'quiet supporters' for a litigant was born - is not primarily where those who pay them are receiving their services today. In that sense, what we see in court represents the tip of the iceberg."
"The risks of McKenzie Friends being able to seek payment for representing their clients in court, despite being unqualified and offering no disciplinary process and no requirement to have insurance, are considerable and so vulnerable clients have little protection. The research suggests that the number of paid McKenzie Friends seeking judges' permission to represent clients in court at present is smaller than many feared, and one view is that it can and should be nipped in the bud without impacting on access to justice.
"The research is focused on McKenzie Friends who are making money from the service they sell to clients. It must be viewed against the wider backdrop of the good work the traditional McKenzie Friends, who do not charge for their services and act as a support to litigants in person in our courts, provide. This original concept of the McKenzie Friend is a helpful part of our justice system."
Commenting on their research findings, Drs Leanne Smith and Emma Hitchings said: "We found much that was positive about the work of paid McKenzie Friends. This is the first research to explore the views of clients of McKenzie Friends and those we spoke to reported receiving a great deal of valuable support from their McKenzie Friends at a relatively low cost. We also found that many McKenzie Friends are keen to engage in relevant education and training and that many have sufficient knowledge and experience to improve the ability of litigants to manage their own cases.
"On the other hand, it does appear that the business practices of paid McKenzie Friends need improvement. The issues to be addressed here relate more to work done outside of the court room than at court. It is clear that any future decisions about responses to the work of paid McKenzie Friends in court should be proportionate to the relatively small scale of the problem compared with the needs of litigants in person more generally within the court."
Andrew Langdon QC added: "There is a broader issue here – that many people seeking justice, who may have been denied legal aid following years of cuts to the legal aid budget, have no choice but to turn to a McKenzie Friend, paid or otherwise, at their time of need, for legal advice and support. Although the researchers did not consider this as part of the study, some McKenzie Friends will charge more than a junior barrister despite the fact they provide less value and protection to those in need."