View all news
Law Clinic Welcome Evening Report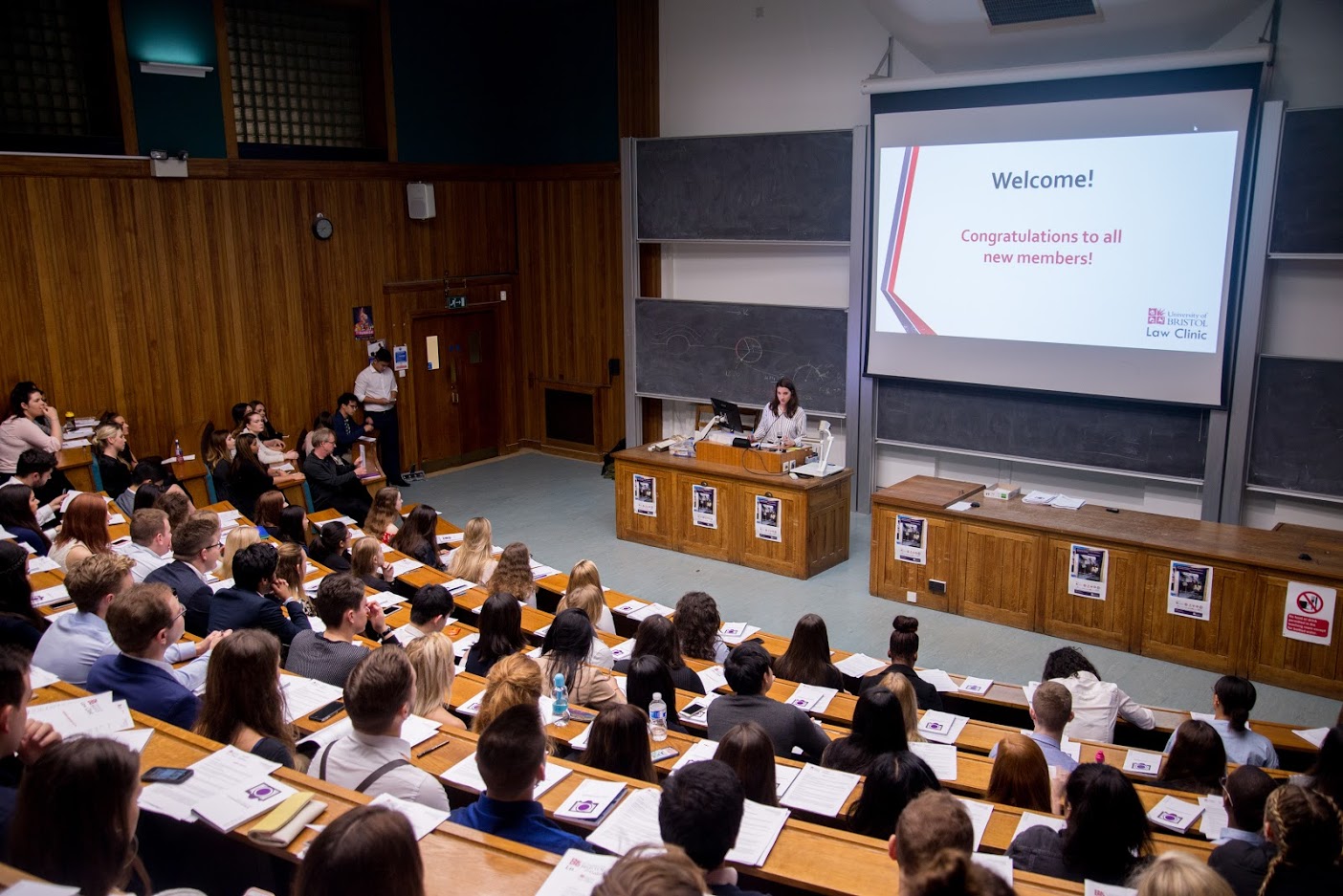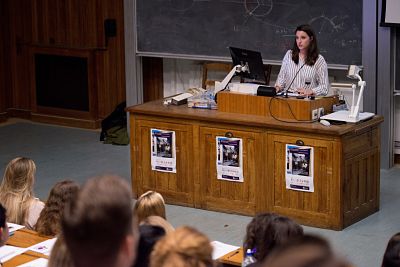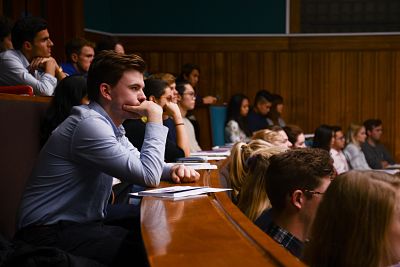 Press release issued: 24 October 2017
On 18 October the University of Bristol Law Clinic annual Welcome Night was held, introducing the committee and staff to returning and new Clinic members, and providing information on current Clinic procedures, outreach projects and developments. Bethane Harland, the Law Clinic Student Director, reports on the Welcome event below.
This year the Clinic has grown extensively, from 120 to 168 members, with 59 of those places having been awarded to new Clinic members and the rest made up from returners and Clinical Legal Studies students. Growing numbers have been evident year on year, highlighting the demand for our services within the community. With nearly all 168 Law Clinic members attending the Welcome Night, I wanted to cover vital information in depth, most importantly emphasising the exciting developments within the Clinic this year and going forward.
Starting with a brief introduction, followed by our promotional video, we were able to boast increasing case numbers, having already had over 80 to allocate since the beginning of term. This was in addition to highlighting the array of legal areas we advise within, from housing and tenancy issues to benefits problems and employment queries. John Peake, our Director, then gave some background on his experience in the Clinic so far, along with highlighting our exciting move to the custom Clinic suite in 8-10 Berkeley Square in January. We were able to explain how this has hugely increased client experience (previously asking them to meet us inside the imposing Wills' foyer), as well as providing us with a spacious and functional workroom to carry out case research.
Following this, our new Clinic supervisors, Omar Madhloom and Michael Webster, gave an overview on how they want to help better and build the Clinic as a whole this year. This includes introducing slicker and more professionalised case forms, client contact procedures and focused in-house training. Implementing these measures will not only improve the experiences of our clients, but also our students: the crucial balance which any educational legal clinic hopes to achieve.
We were also lucky enough to be joined by Clare Johnson, Head of Clinic Support and Development from the organisation LawWorks. LawWorks not only helps to connect people desperately in need of legal advice, but also provides invaluable legal resources to pro bono organisations like the Law Clinic. By informing students on how to access the range of resources available, including draft templates, caseworker advice and legal fact sheets, students will be able to quickly make an unfamiliar area of law a lot clearer in a short space of time, and know how to best begin their imminent case research.
After this, committee members took it in turns to run through fundamental aspects of the Clinic. This included explaining how to go about using our Membership Handbook and illustrating every aspect of how to carry out a case, students finding this particularly beneficial. Additionally, we explained our legal advice outreach projects with CLIC Sargent and Litigants in Person. Being lucky enough to offer our members opportunities to advise extremely vulnerable clients on difficult cases will best prepare them to interact with similar clients and situations in practice. We also raised our StreetLaw initiatives – StreetLaw involving advising groups, this year including Bristol Women's Voice and the SU Letting's Office, and even sixth form students, on multiple areas of law. This will help to help enhance student skills in communication with those not legally trained, but still in desperate need of comprehensive legal support.
We then ran through our continued and developing partnership with Osborne Clarke. Having only begun sponsorship of the Law Clinic last year, this year the firm will be offering the students more tailored client and letter writing training at their Bristol offices, in addition to exclusive opportunities for members to network with professionals within the firm. We are hoping to run several events with them this year, so watch this space!
Finally, all members were required to read our policy documents and sign Membership Contracts, agreeing, amongst other vital components, to act in the most professionalised manner throughout the duration of their membership. This vitally helps us to ensure that our clients receive the most considered advice and personalised treatment whilst seeking our help, encouraging our members to act in the most disciplined and thorough ways possible, whilst also aiming to improve on a multitude of skills.
Our first social of the year at Be At One completed the night, giving all members the opportunity to meet their new colleagues and ask any questions following the wealth of information presented to them. I can honestly say that following the event, not only were students raring to go with casework, but all staff and committee members felt fully prepared to get going with what we know will be a truly incredible year of more cases, more experiences, and a great deal more development!
- Bethane Harland
Quote from an attending student member:
"The Law Clinic Welcome Night gave me a great insight into the work that the Law Clinic does, and the positive effects this hard work and commitment has on the most vulnerable people in our local community. The Law Clinic will provide me with opportunities to research different areas of law and communicate face-to-face with clients, in a supportive and professional environment. I am sure that the skills that I will learn this year will prove invaluable to me when exploring employment opportunities in the future. I cannot wait to get started and see what a difference my work can make to others."
Further information
Bethane Harland is the Student Director of the University of Bristol Law Clinic. She is a 3rd year Law Student who has been a member of the Law Clinic since 2015, and sat on the committee in the capacity of Advice Coordinator in 2016.
For further information about the University of Bristol Law Clinic please click here.