View all news
Law Clinic celebrates successful cases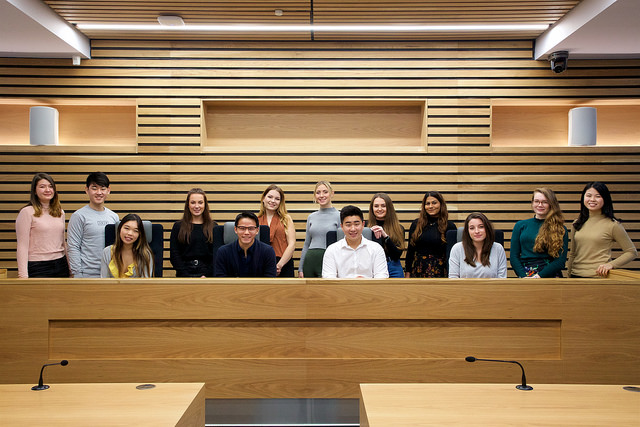 7 December 2017
Students working at the University of Bristol Law Clinic recently celebrated the successful outcomes of two hearings.
Law student and Vice Director of the Law Clinic Bryan Wang worked on a case for a client with a degenerative disease, whose employment support allowance had been revoked by the Department for Work and Pensions (DWP). The University of Bristol Law Clinic contended the inaccuracies and inconsistencies of the medical report the DWP based their reviewal on, to which the DWP conceded. The judge held that the client more clearly marked regulation descriptors than when originally approved for employment support allowance and ruled in the client's favour.
Bryan commented on his experience: "Personally, I was initially intimidated with the fact that I had to go up against a government body in court, as a mere law student. However, once I looked at the appeal papers and the facts of my client's case, I was very confident that we would be able to win this appeal. Using that confidence, my partner and I drafted a detailed submission, draft after draft, for the judge's consideration, hoping to do right by our client and get him the support he needs and so deserves"
I think this result has done wonders for my confidence, and cemented by passion for litigation. I have recently accepted a training contract over the summer with a commercial litigation focused firm back in Malaysia, and much of what I learned over there had been put into use during the preparation of this appeal."
In another successful Law Clinic case Law students Sarah Andrews and Charlotte Mantell worked on an appeal and hearing for their client, Ms. Vlasceanu, regarding her Personal Independence Payment (PIP, which has replaced Disability Living Allowance).
During her internship at the Law Clinic Paige Franks also contributed to the preparations. She met with Ms. Vlasceanu to talk through her situation and PIP criteria, covering each section and writing up the information in a statement in support of an appeal to send to the court.
After the hearing result came out Paige, who has recently secured a job at RPC, said: "I was delighted to hear of the successful outcome! I am very pleased for Ms. Vlasceanu and find it incredibly rewarding to know that my work contributed to her winning the case so that she now receives the benefits she was genuinely entitled to."
This week Bristol 24/7 ran a feature on the Law Clinic and the valuable work done by the students involved. Read the full article here.
Further information
For further information about the University of Bristol Law Clinic please click here.