View all news
Epigram Interview with Aasmah Mir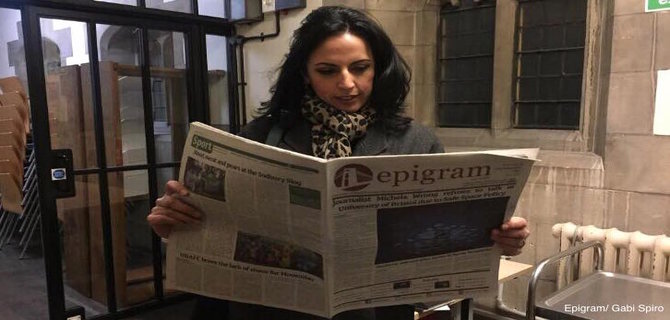 13 December 2017
Following our recent Thinking about Thinking event, radio journalist and Law School alumnus Aasmah Mir was interviewed in a discussion that touched on on Bristol, careers in the media and the post-uni 'panic'.
By Gabi Spiro, Film and TV Deputy Editor for Epigram, the University of Bristol's Independent Student Newspaper.
Aasmah Mir took the time to chat with Epigram, despite having just chaired a ninety-minute panel discussion and rushing to collect her belongings before the taxi came in ten minutes.
The Sony Gold Award-winning broadcaster was welcoming and amiable, perhaps swept up in the nostalgia of being back, for the first time since graduating, at the Wills Memorial Building.
Aasmah left the University of Bristol in 1993 with an honours law degree and seems to remember her days here fondly. Earlier in the talk, she joked about being a deviant student, so after the discussion, I ask what her most vivid memories are of being a student in Bristol. She laughs. 'All of it'.
She reminisces about 'hanging out with people, living in such a beautiful city, and loving the architecture'. It seems the perks of studying in Bristol are timeless, and her anecdotes could easily match those of a student here today. She remembers 'some great all-nighters, where we'd end up watching the sun rise over the Clifton Suspension Bridge or Cheddar Gorge' and her worst memories are 'tramping across The Downs from Badock Hall in the rain, and falling asleep in lectures', as she suffered through a regular Monday 9am. It is welcomed news that falling asleep in lectures isn't necessarily an indicator of later professional failure.
After leaving UoB and aged only twenty-one, Mir landed a job as a newsreader at STV in Glasgow. She quickly grew bored of reading auto-cues, and moved to work for BBC Radio Scotland as a researcher, and then as a producer for BBC Radio London. She now co-presents Saturday Live on Radio 4, as well as reporting for ITV during elections and for their current affairs programme Tonight. The apparent ease with which she climbed the professional ladder is admirable, especially in a career so unrelated to her degree.
'I decided I wasn't going to pursue law, so I went back to Glasgow and I didn't have a job and my mum was like "what the hell is going on? I thought you were going to be a lawyer," and then I saw a job in the paper as a graduate trainee at STV'. It seems as if everything fell comfortably into place, and Aasmah is aware of this, continuing 'I was really lucky because things looked a bit ropey for a while and I didn't know what I was going to do'.
With the media world and arts sector jobs becoming increasingly saturated, anxieties about employment are commonplace amongst students. With this in mind, Aasmah relays some practical advice about working within the journalistic world, which interestingly, is applicable to a lot of other career paths. She says 'things have changed so much now but it's still about getting one thing on your CV, and having an idea of what you're genuinely interested in'. She goes on, 'make yourself indispensible', and 'try and be an expert on something instead of just trying to be someone who knows a little bit about everything.'
As well as having worked as a newsreader, researcher, presenter, reporter, reviewer and writer, Aasmah has covered numerous live referendum and election results, including the mammoth events of recent politics. In such a varied career, I wonder if a certain moment stands out as particularly ground-breaking or memorable. She mentions that the 2010 coalition was unprecedented, but that it was later dwarfed by the Scottish independence referendum, the EU referendum, and then the 2017 election and its outcome. 'I suppose it was the EU referendum [that stands out] because that's the story that no journalist foretold, so just to be there and to be at account, and to watch it go the other way to what people had expected, I suppose that is a stand out moment because of the massive repercussions we'll see for years to come'.
What strikes me about Aasmah is her modesty, honesty and charisma, and how reassuring this is. She partied at university, ignored the designated law student path, and yet has had an exciting and varied career. Hers is a success story that students need to hear.
Further information
Aasmah Mir is a Sony Gold Award-winning broadcaster. She co-presents Saturday Live on BBC Radio 4, reports for ITV during elections and for their flagship current affairs programme Tonight. Click here to find out more about Aasmah and the other speakers on the Thinking about Thinking event panel, which brought together high achieving graduates in a discussion on how changing the way you think will significantly improve academic results, increase employment prospects and maintain well-being.
Read the article on the Epigram website here.