View all news
Successful launch event for the Centre for Health, Law, and Society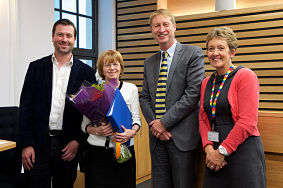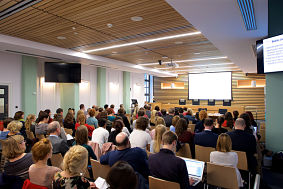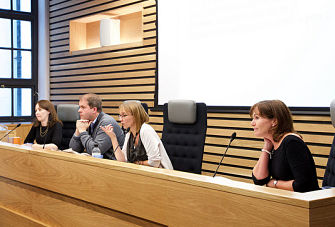 Press release issued: 24 October 2017
On 5 October 2017 the new Centre for Health, Law, and Society (CHLS) celebrated its launch by hosting an event that included a symposium, a key note lecture by Professor Margaret Brazier and a reception.
Professor John Coggon and Dr Judy Laing, directors of the new Centre for Health, Law, and Society, welcomed staff and students from across the university, as well as external academics, practitioners and members of the public, to the Centre's launch event in the Lady Hale Moot Court Room. The event was sponsored by the Law School at the University of Bristol.
The event's opening symposium ('Health, Law, and Society: Promoting Discourse Between Theory and Practice') presented an opportunity to celebrate the work of scholars within the Centre, emphasising the links between health law scholarship and policy and practice, as well as to engage in debate and discussion with the external speakers and other participants. Following the symposium was a public lecture by Professor Margot Brazier, who delighted the audience with her insights into the past, present and future of health law. The evening concluded with an informal reception where staff, students and symposium participants reflected on the discussions that were had throughout the day.
At the launch of the CHLS we asked experts what they thought were the most important contributions from health law research to health policy or practice in the last decade - and what were the future challenges. From the successes of tobacco control to the rise in medical negligence cases, catastrophic global health emergencies such as ebola and medical tourism - and the need for critical reflection in academic law - the responses reflected the diverse debates had on the day. Watch now:
To find out more about the symposium's presenters and their topics, please visit the CHLS launch website.
Further information
The Centre for Health, Law, and Society promotes cross-disciplinary and cross-sector perspectives on the impacts of law and governance on physical, mental and social wellbeing. Based within the University of Bristol Law School, the Centre for Health, Law, and Society comprises leading scholars whose work focuses on wide-ranging practical areas from within and far beyond health care systems, including clinical medicine, reproductive care, mental health, social care, and public and global health.
For more information about the Centre and its members, projects and opportunities please visit the CHLS website.