View all news
Law Students featured in Coolest Black Kids on Campus article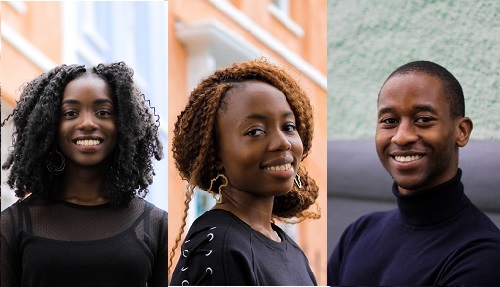 Press release issued: 19 October 2017
Three University of Bristol Law students, Sheila Bamugemereire, Kelly Emelle and Anthony Miruri, were featured in an article celebrating black students and their creative and community-shaping projects.
Bristol is the New Black ran a feature highlighting talented black students, inviting them to talk about their blackness, their interests and plans and how their rich identities are key in creating an inclusive campus. The article ('Coolest Black Kids on the UoB Campus pt1') includes three students from the Bristol University Law School, Sheila Bamugemereire, Kelly Emelle and Anthony Miruri. Below are excerpts from their interviews.
Sheila Bamugemereire is a 2nd year law student fascinated by literature and writing. She co-manages the Shajara Collective of African writers, is Vice President of the Intersectional Feminist Society and co-creates radio shows for BCFM and Ujima. In future she seeks to combine the skills built up during her degree and extra-curriculars to aid in the implementation of intersectional and rights-based policy in Uganda and to create, and enable other people to create, safe spaces for individuals from marginalised communities.
Kelly Emelle is a 3rd year law student and aspiring media lawyer with an interest in black/African literature. She organises opportunities for Bristol is the new Black members through the initiative's partnership with Ujima Radio, is a marketing intern for the black-owned natural hair company Root2Tip and shares her passion for natural hair through her personal blog 'My Afro Is Political'.
Anthony Miruri is a 3rd year law student. He is an intersectional feminist, aspiring solicitor and author, musician, and an advocate of equal rights and opportunity for marginalised communities in Kenya and the diaspora. He also co- manages the Shajara Collective of African writers (for "African stories by African writers").
For more information about the featured individuals please read their interviews in the article here.
Further information
Bristol is the New Black (BITNB) is an O2 sponsored initiative raising awareness of the black people who are shaping life and culture in Bristol. This may be through campaigning, art, business, or just generally being an interesting person. BITNB seeks to promote and connect these individuals and their narratives to a wider community of inspiring black people in Bristol. For more information please visit their website.
For more information and events marking Black History Month please click here.