View all news
Advising in Austerity Exhibition opens in Wills Memorial Building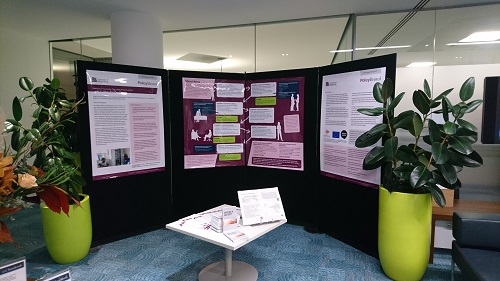 Press release issued: 9 November 2017
An exhibition exploring solutions to the obstacles facing advice service will be on display in the Wills Memorial Building this week.
The Advising in Austerity project's research shows the importance of the encounter between client and adviser in identifying possibilities for translating problems into possible legal actions. The local voluntary sector advice office is, for many, the only lifeline in dealing with a myriad of everyday problems and crises – from losing a job, mounting debts, threats of eviction or the demands of caring for elderly relatives or sick children. There is an urgent need to radically rethink how services are delivered so that they remain accessible and available to all. Advising in Austerity draws together models of practice, identifying the possibilities for closer collaboration between legal education and advice sector organisations.
This interactive exhibition explores solutions to the crisis in face-to-face advice funding, informed by stories of advice service users, collected through research by the University of Bristol and voiced by students from the Law Clinic.
An example of an advice client story features Liz, a single mother and foster carer with two part time jobs, who was given an eviction notice when she could not afford a sudden increase in rent. Liz was informed that she could not receive assistance from the council until she was actually homeless. In her story she states:
"It was a tricky process but [the Citizens Advice housing adviser] walked me through it. Each step, each choice about the options. The main thing was, he helped me to show them how risky my situation was, how I could have been homeless, just like that. He explained why I needed help as a priority, and the council agreed, and got me in somewhere affordable. The relief is just massive. I just shudder to think what it could've been like. The kid I'm fostering just now? That would've been him back in care. And my son and me – homeless. That seemed unimaginable. […] You don't always realise how quick it can go, just like that."
The exhibition will be on show in the Wills Memorial Building Foyer from Thursday 9th - Tuesday 14th November, 9.00 - 17.00.
This event is part of the Thinking Futures festival - our celebration of research in the social sciences. With a wide variety of events for the general public, schools, policy-makers and third sector organisations, it provides an opportunity to see how the social sciences inform key debates and advances in policy and practice for governments, education, charities, health services, legal systems, and public services around the globe. It is part of the national ESRC's Festival of Social Sciences.
Further information
For further information about the Advising in Austerity project please click here.