View all news
Emma Hitchings cited in Law Commission's final Report on Pre-Nuptial Agreements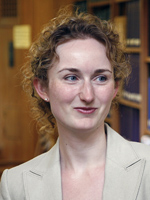 Press release issued: 6 March 2014
Research studies conducted by Emma Hitchings cited in Law Commission's final Report on Pre-Nuptial Agreements
Three research studies conducted by Dr Emma Hitchings, Senior Lecturer at the University of Bristol Law School have been cited in the Law Commission's recent report into Matrimonial Property, Needs and Agreements (2014).
Research by Dr Hitchings into the views and approaches of family practitioners who advised on pre-nuptial agreements has been referred to frequently in the Law Commission's Report. The research study was timed to feed into the Law Commission's original consultation exercise in 2011 and in its final Report, Dr Hitchings's research has been cited in the following respects:
as evidence of the pressure that individuals may face when encouraged to sign a pre-nuptial agreement by their partner (para 5.31)

as evidence of family practitioners current approach to the timing of pre-nuptial agreements (paras 6.43 and 7.48) and the financial disclosure required by the parties before signing the agreement (paras 6.71 and 7.51)

as evidence of one the potential problems encountered where one party pays for the other to have legal advice prior to signing the agreement (para 6.130)
Other research conducted by Dr Hitchings on 'everyday' cases in ancillary relief (financial provision on divorce) was referred to in the Report as one of the pieces of evidence highlighting the reported instances of geographical inconsistency in approach by the courts to spousal periodical payments (para 2.48). The Law Commission has recommended that the Family Justice Council prepare non-statutory guidance as to the meaning of financial needs to help to minimise regional inconsistencies in approach by the courts and the problem of lack of transparency for the general public.
In its conclusion about the development of possible future guidelines for the financial provision exercise, the Law Commission underlined the need for further research. Whilst referring to the fact that there is a serious lack of data in the area, they referred to Dr Hitchings's current research with Joanna Miles and Hilary Woodward as providing some empirical data on settlements in financial disputes following divorce to help plug this gap (para 3.155).
The first report by Hitchings, Miles and Woodward on routes to settlement has recently been published: Assembling the Jigsaw Puzzle (2013) (PDF, 1,539kB)