Sustainable construction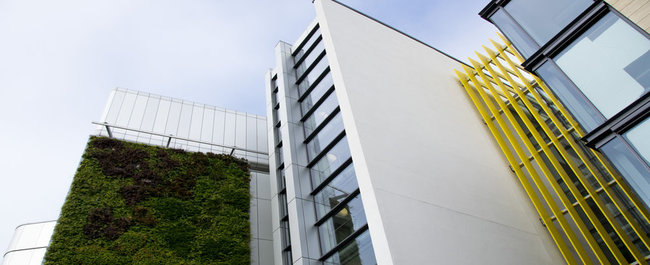 We design and construct all our new buildings and major refurbishments with sustainability in mind: all our projects include features that reduce environmental impact both during construction and when in operation. By embedding sustainable considerations in our building projects, we also improve our staff and students' health and wellbeing, as well as making our buildings safer and more secure, with lower running costs and fewer maintenance needs.
Our targets
For over ten years we've used BREEAM, and more recently SKA, assessments to help reach our sustainable construction goals.
We aim to achieve a BREEAM standard of 'excellent' for new builds and refurbishments, requiring us to go above and beyond the Buildings Regulations required levels. This can be seen in the Sustainable Construction standard called BREEAM
Our results
We've completed 20 projects which have been certified to either BREEAM or SKA standards, including 11 'excellent' certifications.
Our sustainable features include:
solar PV panels
a 200kW combined heat and power unit
four green roofs
a green wall
FSC certified wood
natural ventilation systems
LED lighting.
Waste management
Over 90 per cent of our construction waste is either reused or recycled.