View all news
Novel host cell pathway hijacked during COVID-19 infection uncovered by Bristol researchers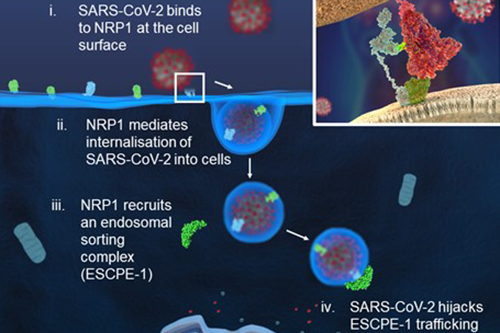 Press release issued: 14 June 2022
An international team of scientists, led by the University of Bristol, has been investigating how the SARS-CoV-2 virus, the coronavirus responsible for the COVID-19 pandemic, manipulates host proteins to penetrate into human cells. After identifying Neuropilin-1 (NRP1) as a host factor for SARS-CoV-2 infection, new findings published in the journal of the Proceedings of the National Academy of Sciences (PNAS) today [14 June] describe how the coronavirus subverts a host cell pathway in order to infect human cells.
SARS-CoV-2 continues to have a major impact on communities and industries around the world. In an attempt to find innovative strategies to block SARS-CoV-2 infection, the team previously identified NRP1 as an important receptor at the surface of cells that is hijacked by SARS-CoV-2 to enhance infection.
NRP1 is a dynamic receptor that senses the microscopic cellular environment through the recognition of proteins containing specific neuropilin-binding sequences, called ligands. By mimicking this neuropilin-binding sequence, SARS-CoV-2 is able to subvert this receptor to enhance its entry and infection of human cells.
In this new study, the group led by Bristol's Faculty of Life Sciences, Professor Peter Cullen from the School of Biochemistry and Drs Boris Simonetti, Senior Researcher and James Daly, Research Associate, in the Cullen lab, has now identified NRP1 and its ligands are transported within the host cell by a protein complex, called ESCPE-1. The protein complex captures NRP1 and regulates its transport between compartments inside the cell.
The function of this pathway is still not completely clear, but the team found that using gene editing to remove ESCPE-1 from human cells effectively blocked SARS-CoV-2 infection by around 50%, suggesting that this process is beneficially hijacked by the virus during the infection process.
Pete, Boris and James, explained: "This study represents an advance in the understanding of the pandemic coronavirus, and how it subverts host biology in order to infect cells. The identification of this pathway used by SARS-CoV-2 opens avenues for designing therapeutic interventions that can prevent ESCPE-1 and NRP1 from associating with the Spike protein to reduce infection."
Paper
'ESCPE-1 mediates retrograde endosomal sorting of the SARS-CoV-2 host factor Neuropilin-1' by Boris Simonetti, James L. Daly, Pete J. Cullen et al in PNAS [open access]
Further information
The Science paper 'Neuropilin-1 is a host factor for SARS-CoV-2 infection' by Daly, Simonetti, Klein et al is available online at: www.science.org/doi/10.1126/science.abd3072
A video explaining the Science research findings.
About coronavirus (SARS-CoV-2)
The surface of the coronavirus particle has proteins sticking out of it known as Spike proteins which are embedded in a membrane. They have the appearance of tiny little crowns, giving the virus its name (corona). Inside the membrane is the viral genome wrapped up in other proteins. The genome contains all the genetic instruction to mass produce the virus. Once the virus attaches to the outside of a human cell, its membrane fuses with the human cell membrane and its genetic information into the human cell. Next, the virus instructs the cell to start replicating its genome and produce its proteins. These are then assembled into many new copies of the virus which, upon release, can infect many more cells. The viral proteins play diverse further roles in coronavirus pathology.
Support our COVID-19 research
Bristol's researchers are part of a global network of scientists responding urgently to the challenge of the coronavirus pandemic.
Find out how you can support their critical work
Bristol UNCOVER Group
In response to the COVID-19 crisis, researchers at the University of Bristol formed the Bristol COVID Emergency Research Group (UNCOVER) to pool resources, capacities and research efforts to combat this infection.
Bristol UNCOVER includes clinicians, immunologists, virologists, synthetic biologists, aerosol scientists, epidemiologists and mathematical modellers and has links to behavioural and social scientists, ethicists and lawyers.
Follow Bristol UNCOVER on Twitter at: twitter.com/BristolUncover
For more information about the University of Bristol's coronavirus (COVID-19) research priorities visit: http://www.bristol.ac.uk/research/impact/coronavirus/research-priorities/
Bristol UNCOVER is supported by the Elizabeth Blackwell Institute
Find out more about the Institute's COVID-19 research looking into five key areas: virus natural history, therapeutics and diagnostics research; epidemiology; clinical management; vaccines; and ethics and social science.