Student experiences - Ukraine
Kateryna Sologub - BA History of Art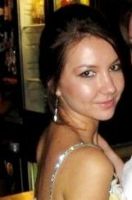 I came to England in 2006 in order to do my A-levels. When it came to choosing a University, I went to an open day at Bristol and knew straight away where I was going to study next.
I am currently doing my second year in History of Art. Deciding on my course was kind of a spontaneous decision at the time, but the more I learn about art the more I love it. The course includes learning about art, architecture and sculpture dating from the Middle Ages to our times. I have about 6 hours per week of lectures and seminars, so we are expected to do lots of independent study. The art history department has everything you need in order to be a successful student: it has a good resource center, with all the essential books and slides, spacious desks and friendly staff who are always willing to help.
Last year I lived in Clifton Hill House. My decision was based on the fact that it is located in the nicest part of Bristol – Clifton. It is a catered hall, so you don't worry about cooking food in your first year. There are beautiful gardens in the grounds and we had couple of garden parties in the summer term, not including the numerous barbeques and the general chilling out/tanning.
I was so happy to hear that I could continue doing dancing in Bristol. I joined the Ballroom and Latin Dancing Society and had a chance to go to different competitions including Blackpool (very famous throughout the world), which was my dream since I started dancing about 10 years ago.
Bristol is a perfect place for University - it has its own airport, it's not far from London, it's not too big or too small, so you can get everywhere within walking distance and at the same time it has lots of cinemas, restaurants, a new big shopping center and an amazing night life, especially if you are into drum and bass.