Student experiences - Taiwan
Chun Ting Yeh - MEng Computer Science and Electronics
I first heard about the University of Bristol from my sixth-form advisor and my school seniors. Its reputation certainly grabbed my attention and sure enough, it turned up at the top of every university ranking as I searched. Not only that, Bristol also offers a course that most other British universities don't – Computer Science and Electronics. This course is perfect for me because I am very passionate in both computer science and electronics and it is what the employers really are looking for. It naturally became the first choice in my heart.
Having never visited the city of Bristol, I still got to know my way around after the first week. It has been a big change from what I am used to, but it is brilliant. Bristol city centre is such a vibrant place; it has beautiful sceneries and is both convenient and lively. Before arriving, I almost wanted to reject my accommodation offer but I am so glad I did not. I am currently living right next to every facility you could ask for, including shopping complexes, pubs and restaurants. According to Telegraph, Bristol is the best city to live in the UK. The precinct area, though, is up the good hill. Climbing it everyday makes me fit! Some school buildings are modern, but I love the history-rich ones – some of them are Grade II* listed buildings.
Since my studies begun, the workload had been manageable. I enjoy the pace so far but I am also prepared for upcoming challenges. What is studying if it is not challenging? On another note, every issue I have raised got solved quickly from the vast number of services the University provides. The Student Union, the Student Health Service (Bristol has its own team of GPs; it is one of the only two universities in the UK that does.), the Industrial Liaison Office, the International Office, and generally staff are very helpful. I appreciate it very much.
Every week I get more than ten emails inviting me to career talks, seminars from industry employers, out-of-study lectures about the latest technologies and whatnot. It shows just how engaging the University is in giving its students the best industrial insight and pushing its students forward to the future. The University has excellent links with many renowned employers indeed and every year students are offered internships, which is extremely important career-wise. I believe these career services, when put in proper use, will take me one step ahead in the fierce competition of jobs.
Outside of studies, Bristol has over three hundred societies ranging from all sorts of sports, to the weirdest activities you can think of, for instances: Pokémon society, Chocolate society and Zombie Apocalypse society. If you ever run out of things to do in Bristol… No you can never. With all the socials going on, all the city events and all the society activities, "work hard, play harder"
definitely applies perfectly!
---
Shuo-Yu Wu (Charlotte) - MEd TESOL
Having spent three months here in Bristol, it is quite an enjoyable living and learning experience in this university as well as the city.
In my first few days in Bristol, the first thing I found out about this city is the marvelous balance between convenience and leisure. It is always convenient to get to transportation and living necessities. But when you want to spend some time quietly, say, taking a refreshing walk, you can easily find nice places to relax and to enjoy the scenery along riverside. Actually, a walk along Avon River is my favorite pastime - it would be quite helpful for someone who got piles of assignments and readings on hand.
And for someone looking for dramas, art films and plays, Bristol is definitely a city full of cultural charisma with easy accesses. There are a number of plays in Hippodrome and Bristol Old Vic, which is near to the university. All you need to do is the find some time to go there and enjoy the plays. And be sure to bring you student cards with you! In most cases, you can enjoy the nice performances with a good ticket price.
As to social life, in terms of the constitution of the students, this is quite an international university. Students in the university come from different countries and cultural backgrounds. It is wonderful to meet people from various parts of the world, which is also a new and interesting experience for an overseas student like me. There are also plenty of social events for both undergraduates and post-graduates. For example, events held by numerous student societies or even the residential halls. And it is always interesting to meet new and friendly people. I myself have met several good friends on these occasions. Now, they are not only part of my social life, but also a crucial source of support when the study sometimes gets overwhelming.
Last but not least, in regard to academic learning, in my own pathway students are well supported by all the tutors: the teaching is nicely structured, and all the tutors are sensitive to the potential difficulties and our concerns in learning. And the most important thing is that the course did provide me with the necessary and latest knowledge in the field, which is very inspiring and helpful to my future career. Generally speaking, the learning is quite intense, which sometimes may be a bit stressful, but it is fruitful, to me.
To sum up, I do think this is a marvelous city and university to live and to study in. The diverse aspect of the life here in Bristol is worth exploring—and I am also exploring it with enjoyment.
---
Huei-Ling Tsai - MEd TESOL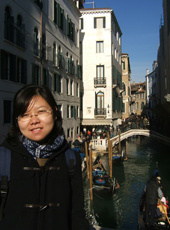 I first heard about the University of Bristol from a former TESOL student. She described her experiences at Bristol as rewarding and fulfilling learning experiences and highly recommended it to me. With such strong personal recommendation, I made the decision without hesitation when applying for postgraduate studies in UK. That's it, the University of Bristol.
My first impression of Bristol is that it's quite a hilly city. Yet, it is a lively and lovely city. Living in Bristol is convenient. The Clifton suspension bridge, the Hippodrome Theatre, fancy nightclubs are all within walking distance. In this city, I find a harmonious balance between nature and leisure.
In Bristol, international students are never alone. The University of Bristol and BISC, the Bristol international student centre, offer plenty of help and support. The social activities held by them are good ways to know other international students and locals. For example, the local link scheme links me up with a local family in Bristol. I do enjoy chatting with my host family, from whom I know more about Bristol and British culture. I also knew some new friends when joining trips with other international students. To me, people in Bristol are quite friendly to international students.
In TESOL programme, the quality of teaching is excellent. Teachers are all very supportive. They never hesitate to offer help. In class, I got lots of inspiration in language teaching from their lectures. The discussion with other experienced teachers also leads me to reflect on my own teaching and rethink my teaching beliefs and methods, which are beneficial to my personal growth. On the whole, my studies at the University of Bristol are quite satisfying. Studying at Bristol is definitely one of the best choices I have ever made in my life. I do enjoy my life here and would like to recommend it to those who want to study in UK.
---
Chia-Yueh Hsu - MSc Research Methods in Psychology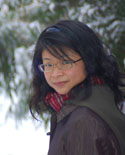 I came to Bristol in 2007 with my husband when he started doing a PhD at the University of Bristol. We are very lucky to be offered an university accommodation at a very good location – the main university library, the Downs and high streets are all within walking distances. After settling down into our flat, I took some language courses, in which I enjoyed making friends from societies/cultures/religions, which are very different from where I am from. I attended social activities hosted by the Bristol Taiwanese Society of the university and the BISC, Bristol International Student Centre, which gave me support in this foreign city and encouraged me to make links with people from my homeland, different parts of the world and local community. I enjoyed exploring the city's different faces in the past and present, from visiting the Georgian House, which marks the city's rise as a part of the trans-Atlantic trade in the 18th century to tracing Banksy's graffiti in different places of the city. I found these experiences eye-opening and felt happy that we have decided to come to this city with such diversity.
In 2008 I started doing a volunteering job at a charity, which aims to help local people with drug misuse problems. This job is related to my background – I was qualified as a psychiatrist in Taiwan before coming to the UK. I found this job and the training that it offers very interesting and enlightening experiences, helping me advance my understanding in this particularly area. Then I started thinking about doing postgraduate study to further advance my knowledge and skills with regard to academic research and, without any hesitation, I chose University of Bristol since I have learnt from my husband and many people I met here that it is one of the most prestigious universities in this country and offers a range of high-quality programmes. In the Research Methods in Psychology programme, which I'm taking, teachers are all leading researchers in their specialty fields and offering teaching with excellent quality. Even though to complete the coursework and pass examinations is a challenging task, the programme definitely helps me establish a solid foundation with regard to knowledge and skills in academic research.
So far I have found my experiences in Bristol enjoyable, enlightening and fruitful. The quality of teaching in University of Bristol is excellent and life in the city is quite a nice combination of convenience and leisure. I recommend studying in such a vibrant city without any reservation!
---
Li-Chia Liu - MA History of Art: Histories and Interpretations of Art
'Let T. S. Elliot and I go and make our visit' is the first line that occurs to my mind while writing my statement of purpose as I determine to disturb the universe by changing my major from biological science to history of art. I am thrilled when I get the offer form Bristol and I believe it is only Bristol will help me fulfil my dream. It is doubtless that Bristol is a globally distinguished university. However, it is not until I immerse into the intense research environments of the school that I realise how fortunate I am to be a part of it. The lecturers are fascinated with their own research scopes and stimulate students to think independently as well as to contemplate deeply in various aspects. One of my happiest moments on campus is to find the books for the course reading in the library. I am always astonished by the resourceful collection of books in the field of history of art which is a whole new experience to me for the lack of this research dimension in my home country. I cannot help but imagine I am a sea turtle swimming freely under the amazingly beautiful ocean of knowledge. The even more exciting moment is to visit the art museums in different cities of the UK, of course including the Bristol city art gallery. I am convinced that there is nothing better than doing research with the textual descriptions and appreciating the real paintings together. The various learning opportunities, the advanced and convenient computer centre and student friendly campus offered by the school never fail to endear it to me more. Nonetheless, the heavy reading load at first is nerve-racking, especially to a completely new bird like me in the field. After the first term's struggle, I find myself more comfortable whether in participating in the seminar, or doing the presentation. I suppose it is due to my voluntary asking for help to the teachers and my course mates, who are always ready to help me solve the problems. I am quite aware of that there is large space of improvement for me in English academic writing but I am not anxious for my faith in myself and the University of Bristol. I am convinced that I can achieve my goal through our keen and continuing cooperation.
The convenient urban life style in Bristol definitely lessens the pressure of being an international student. It takes me not a long while to get used to the city for its easy access to basic life substantials. Furthermore, Bristol provides big grasslands, city zoo, and other tourist attractions allowing me to take a temporal repose from school works. Ernst Hemingway describes Paris: 'If you are lucky enough to have lived in Paris as a young man, then wherever you go for the rest of your life, it stays with you, for Paris is a moveable feast'. I can now envision that Bristol will be a moveable feast to me before I leave her because it kindly offers me a place to explore western art, particularly English art. Wherever I go, I go with the air I have breathed into in Bristol.