Student experiences - Pakistan
Amna Haider - MPhil English
---
Iftikar Ahmed - MD Gastroenterology
---
Furquan Kidwai - BEng Computer Systems Engineering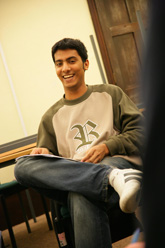 My time in Bristol, will be the most memorable of my life. While studying Computer Engineering, I am enjoying a world-class faculty and teaching facilities in the departments of Computer Science and Electrical Engineering. Although this course is very demanding, support is always there whenever you need it and there is always someone to help you out.
On a social front, there is a lot to do in Bristol. People are very friendly and helpful. I have made life-long friends here and the social life never lets you feel homesick. Many things are going on in the Student's Union to get involved with. Sports, medical and support facilities are excellent.
There are numerous places in and around Bristol that are worth visiting. The Suspension Bridge, Cribbs Causeway and Bath to name just a few. University buildings are also examples of interesting architecture specially the Wills Memorial building. In Bristol, you get the feeling of a small community-oriented city but with all the amenities of a cosmopolitan city.
Coincidentally, Furquan was also an award winner - Regional winner, South West of England - in the 2006 British Council International Student Awards! Here is his essay:
"Dear Miss Marium
The Furquan you taught and inspired is now 21 years old, and in his final year at the University of Bristol studying computer engineering. I find it hard to believe that I will graduate in only four months. I still remember when I was six years old, everyone used to call me 'Kaala' (for my dark skin).
I asked my mother, 'Why me? Why can't I be fair like you?' She said that 'people differentiate you negatively; you have to differentiate yourself positively. Become the best, stand out but remember to be humble. Then people will look up to and respect you.' Education was now my only hope to see a ray of light at the end of this dark tunnel.
In 2003, fully charged, I arrived in the UK to study at King's College London. Within an hour of arriving, I was left alone at Heathrow Airport. After much struggle with the underground, suitcase rolling off the escalators, 40 kg luggage, I finally reached my student halls. My first experience in the UK was not ideal but I knew one thing for sure, I was now damn confident. My journey to win had just begun.
London gave me the chance to be cosmopolitan. Within a month of arriving, I became the Industrial Liaison Officer (Engineering Society), Vice-Captain (KCL Cricket Team) and Debater (Model United Nations). I felt important; no one called me dark now. After achieving first class honours in my first year, I transferred to the University of Bristol.
Bristol planted in me the zest to shine even more and unlock my potential. Soon after arriving, I was working in a careers' fair and employed by a marketing and research call centre. Within a short time, I was playing for the University cricket and squash teams, and participated in the 2005 Bristol Games. Each and every day was different; I was no longer the bad target. I was happy. In Easter, I went to the NUS conference as an observer; student politics was really kicking in. Things got tough towards the end of the year when financial problems caught me; I struggled to meet my basic living costs. I desperately needed more money. Soon after, I was employed by Bristol International Airport, where I worked night shifts and day shifts at the call centre. For the first time, being an international student (with no overdraft facilities) was a pain. I learned the true value of money. I came out stronger; I had seen both sides of the coin.
Soon came September 2005 – my final year. In the first week, I stood in the student union by-elections, got voted in as a Trustee for the Management Committee and Faculty Rep (Senate and Faculty Board). Now, sitting on the highest bodies of the University, the Senate and Court, makes me smile. These bodies have given me the honour to meet the Vice-Chancellor and Members of Parliament; this has instilled in me bundles of confidence and negotiation skills. Representing around 3,000 students with tact and diplomacy has polished my leadership skills; just recently, I took up the issue of tutorials to the higher authorities. My interest in student representation has led me to sit on the Education Committee. My business spirit has remained alive; I regularly trade for the Investment Club. A few months ago, I represented my university in two national business games: 'Yomp' (came second in the south region), and 'IBM Universities' Business Challenge' (reached the semi-finals). My greatest achievement at the University of Bristol has been to join the 'Widening Participation Scheme' as a student ambassador. I have been able to pass on my personal experiences to children from disadvantaged backgrounds; I have been able to show them the light of education. This scheme contextualised my life.
I have been awarded the Civic Concept's Scholarship to attend the 'International Youth Leadership Conference' (Prague), in July, where I will make a presentation on the discrimination of immigrants in Pakistan. However, my passion does not end here; I also want to attend the Harvard Conference in Asia, for which Royal Dutch Shell recently awarded me the 'Shell Personal Development Award'.
I did not get an internship in the UK last summer, but I kept on trying. I persistently asked investment banks to give me an opportunity, and eventually had a phone interview with Lehman Brothers and Citigroup. My efforts paid off when I managed to secure work experiences with both these banks – something that is not normally possible. My applications started rolling again this year, and after exhausting my energies, I received offers from a couple of investment banks, from which I have chosen Lehman Brothers. Now I am working day and night to obtain first class honours.
The UK has made me an amalgamation of confidence and rigour. I have finally seen the light, which my eyes longed for. I have finally proved all those people who called me dark, wrong. I want to succeed, and it is the UK that has given me my ladder to success; my life is now beautiful.
I hope you are proud of me.
Furquan Kidwai."
---
Muhammad Arshad - PhD Organic Chemistry
---
Muzzamil Lakhani - BSc Physics with Astrophysics
Muzzamil entered and won, the British Council's International Student of the Year Award in 2005. Entrants were required to write a letter to someone at home, to tell them about their experiences of living and studying in the UK. Here is Muzzamil's winning letter!
" Dear Mrs Khan
It's been a while since we last spoke. Hope you are well and still inspiring others. Surely you have a magic touch – you are the only person who could successfully teach me English and a source of guidance. You must be very proud of me, going to a University like Bristol, to do a Physics degree. I'll try to fulfil all of your expectations in due course.
Born visually impaired, I was fortunate to have supportive parents and yourself to propel me in life. Everyone told me not to go abroad, discouraged me and told me to give up. So for the past 19 months, I've relentlessly strived to prove them all wrong, by following my heart and using my head. You know I had been severely handicapped in Pakistan, unable to even walk to my street corner unescorted. Friends were only a handful. Academic success often came with stress and let downs, and all choices in life were extremely limited. Feeling segregated was second nature to me. My future seemed bleak and doomed. All my life I was trained to feel I'd remain uneducated, unsociable, unemployed, unwanted. Who knew things would change so radically?
With so many odds against me, including the brief closure of the British High Commission due to the Afghan war, no relatives in the UK and so many doubters, my life took a U-turn the day I entered Britain. I am studying for a degree that a lot of Pakistanis don't pursue and is also hard for partly sighted people. Nevertheless, the University has been phenomenal in helping me, and the city of Bristol has literally stolen my heart.
Coming here, having never lived or even walked outdoors alone, my parents worried beyond belief. The change of culture and a major university all seemed daunting at first. Yet I was determined to succeed, just to prove a point to myself and others. I received a bursary from the Physics Department and all my access needs were funded by the Access Unit at Bristol University – something unimaginable for me. A sighted guide escorted me for a month, during which time I received training on how to use the long cane and walk independently at will.
Within a month, I could walk between my place and the University's various buildings, to the bank, the shops and cafes. The change in me was evident already. Continuing with cane training, I also joined a choir and started learning the piano. I joined a social club and the Institute of Physics. My social life was blossoming, my confidence growing, aspirations rising, and my drive sky-rocketing.
By Christmas, I had learned how to use the kitchen, do my shopping, ask for assistance at the University and elsewhere, talk to strangers confidently and go out alone at night – things I considered impossible not long ago. I was finally growing up. By my 21st birthday, I had made more friends in Bristol than in 20 years in Pakistan combined. I appeared on the BBC Commonwealth radio, met the University's Vice Chancellor, shared a drink with the Lord Mayor, joined the partially sighted football and cricket teams, acquired many disability benefits, had a credit card, membership of the Chocolate Society, a published magazine article and a good academic standing too.
By Easter, I was able to walk six miles. By May I had become popular, 'cool' and trendy. I got a First at the end of Year 1 and the Dean's Commendation for my outstanding performance. I stood second in my lab group. Throughout the year, I acquired note takers, a computer with text enlarging software, books in alternative formats, all funded by the University. I had lived the best year of my life.
In July I got my first ever job at an English Language summer school in Oxford. During my summer break I went gliding, started yoga, did a tandem skydive from 13,000 ft in aid of a charity, dressed in drag to perform on stage, joined a gym, was awarded a grant from Lord Snowdon, and even walked a distance of 15 miles between Bristol and north Somerset without any assistance. I did a Counselling Skills course, and sorted out most of my computer worries.
I began Year 2 by taking extra units in Maths and a German language evening class. I joined a running club, appeared in a newspaper and was elected choir secretary. I joined the University's Widening Participation scheme as a student mentor and ambassador. To my greatest joy, I have received an interview letter from Daresbury Lab, to work on a scientific project during Year 3. Life is finally good.
They say home is where the heart is. My heart is firmly in Bristol. I'm proud of this city. God willing, hopefully this is only the beginning. It's amazing that I have accomplished so much in such short time – it may sound like a fairytale. I'm just glad to be finally living my own life, passing a coaching qualification in weightlifting one day, training for the half marathon the next. And with my English improving daily, I love it more and more.
The list is endless. I just want to make you proud and my parents happy. The world is my oyster and I want to make it home.
Till next time, do take care of yourself.
Regards, Muzzamil"
---
Hira Batool Kidwai - MSc Public Policy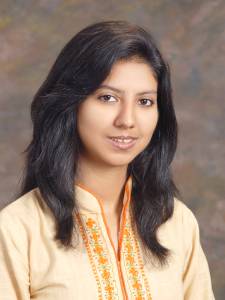 Choosing University of Bristol was an easy decision for me, firstly, because of the University's reputation and secondly my brother came here for his undergraduate degree and would not stop talking about how wonderful his University years were. Coming to Bristol 4 years ago for his graduation ceremony had already made me fall in love the beauty of the city itself. Hence, when it came for me to decide where to go for my post-graduate studies, the decision was easy to come. And half way into the program, I must say there have been no regrets.
Instead, life starts unfolding with all the zeal from the very first day. The Fresher's Week at the Student Union gave me an opportunity to find out about all the societies that were being run, ranging from educational or recreational to social. You name it, and the society exists! I ended up joining the Public Speaking Society, and had such fun, it not only led me to brush up my public speaking skills but gave me a chance to meet other fellow students and make friends.
I received a Bristol Commonwealth Society Scholarship, as well as, was selected for the International Student Scholarship. The award ceremony for the scholarship gave an opportunity to present ourselves and our countries, hence a chance to learn more about the different cultures that exists. I also got elected as the Student Representative for my course, and then as a Senior Student Representative of the University Senate, the highest decision-making body at the university. The position provided me with an opportunity not only to witness the transparent decision-making of the university issues but also voice my concerns and views as a student directly to the Vice Chancellor.
Being at University of Bristol has very positively enhanced my personality. Not only does the university provides outstanding academic teaching quality but also encourages student to develop as a person through various opportunities to increase students' participation in the running of the University. I came here with a degree in Business Administration, and with a passion for policy and social development of the world. And I learn something new every day! I completely believe at the end of the course, I would be ready to take on the world as a Policy-Maker!