Student experiences - Kenya
Dilraj Bhachu - BSc Economics and Finance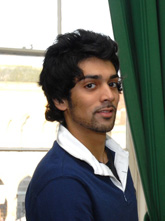 When making my decision regarding what universities to apply to for my course, the University of Bristol made its way as one of my chosen six after being strongly recommended by family friends whose children had studied economics related courses at the University in the past. In my previous school, the University had been cited as one of the ten favourites amongst students from past years, clearly indicating that the university was quite well reputed and had a lot to offer in terms of both academic and non-academic facilities, as well as a great student atmosphere.
My university experience so far has been nothing short of my expectations. The University is different from most others since it is neither completely a campus nor city university, thus enabling students to experience a bit of both the campus and city life. Living in Stoke Bishop has made it easier to get to know many people in a short space of time, hastening the settling-in process and helping to get me straight into the swing of things. My view of the city so far is that it has been built almost entirely for students - the discounts offered by most shops and restaurants have helped make my experience particularly enjoyable since I have been able to make the most of what the city has to offer. For example, student nights at most of the big clubs in the city happen every weekday, making it possible to party the night away every night!
I have commenced my studies fairly enthusiastically, generally making it to all ma lectures without any particular difficulty! Of all the modules studied this year, macroeconomics has so far proved to be the most interesting, and thus firmly establishes itself as my favourite. When studying A level economics, world economics was always of great interest to me and it is clear that my interest in this field has continued on to my studies at university level. Lecturing, as the primary method of teaching, has proved to be a challenge on its own, requiring me to listen attentively at all times and determine what information is of particular relevance. Accounting, which I have studied for the first time, has proved the most difficult of my chosen modules.
Outside of my studies at University, I have pursued my interest in squash, establishing my position in the University squash team. Regular training , as well as matches on a weekly basis, has helped raise my playing standard to a level much higher than previously. Weekly visits to the gym have helped me maintain the fitness required to excel in this sport. I am also a member of the Investment and Banking society, who organise talks regularly with large firms, as well as offer information about internships and how to apply for jobs, which will undoubtedly prove particularly useful after successfully completing my course at the University.
---
Shaereen Kurji - BDS Dentistry
Shaereen came to the UK to study A Levels and chose Badminton School as a suitable place to do this. The school is in Bristol and so Shaereen was well aware of the University and with the help of her teachers was able to find out more about the opportunities available here. Through speaking with friends and relatives back home in Kenya she learnt of the excellent reputation abroad of Bristol.
Enjoying the integration between scientific knowledge and artistic application, being in a position to make important decisions and the attraction of a good career made Shaereen consider dentistry as a suitable direction for her. Shadowing a dentist showed her that this was a career that would encompass her passions and allow her to interact with a wide variety of people and confirmed her aims.
That decision made Shaereen consider study in the US but she chose the UK as she did not have to do a general science degree before specialising in Dentistry here. Knowledge of both the city and University of Bristol made us an obvious choice.
Having been successful in the very rigorous application process she was also awarded one of the undergraduate scholarships, available from the International Office, and this has come as a nice surprise. This award did not sway Shaereen toward Bristol, however, as she had already decided it would be her number one choice.
Her studies having begun, she is really enjoying the programme as it has proved to be much more than she expected, with one of the best aspects being her fellow students, who are some of the brightest young people from all over the world.
When asked about the University's defining characteristic she replied:
"The University offers a decent class size, which I found important as there is more interaction between the teaching staff and the students. Also, the students get to know each other better".
Shaereen loves Broadmead, the city's main shopping area, but she also loves watching people enjoying the Downs, where people go to fly kites, walk dogs, and play Frisbee or just to sit and enjoy the weather, when it is nice.
"Bristol is a beautiful city. There is so much to do here, both socially and academically, and you will have the chance to meet students from all over the world. The staff at the University are easily approachable and you will always find someone available to help out or just listen to you when you need someone to chat to".
---
Ahmed Hassan - MSc Development and Security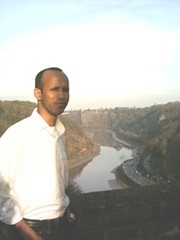 Kenya felt the brunt of instability of its neighbouring countries of Ethiopia, Somalia, Uganda, and Sudan from the spill over effects of neighbourhood conflicts namely hosting huge refugee populations and small arms proliferation to the country that upped clashes amongst the nomadic communities as well as urban crime amongst many other adverse effects. The problem amongst the nomadic pastoralists of Northern Kenya is further compounded by underdevelopment and spells of drought that makes a poor population more poor. School enrolment and completion rates are the lowest as compared to other provinces in the country especially in the secondary school sector where parents have to pay school fees for their children. According to Oxfam, a relief organisation in the area, it takes about fifteen years for a pastoralist in the area to regain a sense of economic self sufficiency after a spell of drought.
As a high school teacher from and in this part of Kenya, I decided that I needed to understand the dynamics of development and knowledge on conflict management. Thus I made up my mind and began looking around for the right institution. A friend of mine recommended Bristol University and on checking courses offered and University rankings, from the information on the university website, I settled for it. The persuasion of friends and the info on the website played a big role in my choice of the University of Bristol. Now that I am here, I have no regrets about the choice that I had made.
The beginning of the academic year coincided with the Muslim month of fasting and I was not sure whether I could make it. However my doubts were erased when I saw Bristol Islamic Society. The BRISOC organised the evening meals (Iftar) for those members that were fasting for the thirty days of the month of Ramadan as well as Arabic and Quranic classes for students. The Society also organises Friday and Eid prayers for the sizeable Muslim student population in the University. This vibrant society further strengthened my regards for and confidence in the University of Bristol.
---
Tulsi Kotecha - MBChB Medicine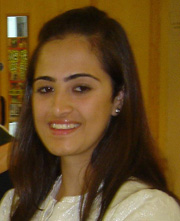 There is a serious problem in Kenya. During her work shadowing of a General Practitioner back home Tulsi was shocked to see how rife HIV/AIDS was, due to the general lack of funds, education and family support for many. Being a genuinely kind and caring person Tulsi seriously wants to make a difference and with her clear love of science, especially anatomy and her hard work ethic she is natural material to become a doctor of medicine herself.
Her parents have worked hard to give her the chance to study abroad and with some family already here, the UK was a natural choice. She had considered the US and Australia as they are both popular overseas destinations for some of her friends and other fellow students from Kenya, but felt that they were both just a little too far from home and family.
Tulsi first heard about the University of Bristol from her curriculum advisor at school and a number of her friends had already enrolled at the university. Bristol, it seems, is a popular choice for the students there. The overall opinion was that Bristol was a great place to study, with a strong academic culture but also being a small and friendly environment in which to belong.
During her gap year Tulsi worked as a music assistant at a school in Uganda, teaching students from year 6 to year 10. Her passion for music (Tulsi is a grade 8 flautist) is well catered for at Bristol where she joined the university orchestra, but sadly the pressure of academic work on her degree has meant she has had to focus more on her studies at present, but she has every intention of returning as soon as she is able to.
The competition for her International Office scholarship was very fierce but winning it has meant a great deal to Tulsi, and her parents. Her brother is also currently studying medicine in the UK and so the financial pressures are considerable and this award has meant a lightening of the load, as well as being considered as a great honour for Tulsi's effort and determination in her academic studies.
When asked if winning the scholarship swayed her decision to come to Bristol Tulsi was adamant: "No, not really, although the financial aspect is welcome, I had already chosen Bristol as my first choice and was not about to change it"
When asked for her reasons she spoke of her love of Bristol. "The city is so beautiful and the University buildings at the heart of the city make you feel really part of the city and the University at once. Every one is so friendly and welcoming I wouldn't want to study anywhere else".
Tulsi also has family in London who she admits to seeing as often as her studies allow her to, as it is only just over two hours away, "two hours to sleep on the train" she says laughingly.
Asked about her experiences now that she is at Bristol, Tulsi had much to comment on:
"I have joined the Hindu and the Asian Society, mainly because I wanted to keep in touch with my faith and my culture. It is wonderful to have so many of these kinds of opportunities available so far from home. It really makes a difference and I was amazed by just how many different societies and clubs it is possible to join".
During "Fresher's Week" Tulsi met so many new people and found it really easy to make new friends, although she can't remember all their names now she has developed a network of very close friends, mainly, but not exclusively, from her hall of residence.
Asked to define Bristol, Tulsi was quite quick to say: "Hills, lots of hills, oh and beautiful buildings, the Victoria Rooms (Music Department) and the Wills Building, I think that Bristol is best identified by the suspension bridge, lots of height but stunning and very relaxing."
I asked Tulsi if she had any words of encouragement for other Kenyan students and she answered "The opportunities available at Bristol are amazing, the university has excellent funding and as a result the facilities are just so much better than back home…it is a fantastic opportunity which I, and they, must make the most of if we are lucky enough to be here."
---
Devan Shah - BSc Accounting and Finance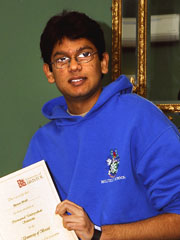 I have previously studied at two schools, starting of at Imani School in Thika, Kenya, before doing my A levels at Millfield Secondary School in Somerset, UK. I was born in Thika, Kenya and have spent the majority of my life there before coming to the UK to pursue further education.
My wish has always been to study at one of the top universities in the world and also live in a cosmopolitan city. It is safe to say the University of Bristol granted my wish! Being in the top five universities for the course I am undertaking in the UK, the university is situated in one of the most beautiful and historic cities worldwide. Having done my A levels in a very similar part of the world, I completely felt at home from the moment I set foot in Bristol. Once you look ahead of the hilly landscape, the city offers stunning surroundings and a fresh, green environment.
Bristol is situated a mere two hours from the heart of London. Every other major city you look at in the UK is further, if not as close. During the day, the historic buildings and ancient architecture cover the city with an air of class and royalty. At night, this gives way to a busy city life full of light and excitement.
The university is spread out over a small area of the city, with accommodation dotted all over the city. Easy bus services will take you all around the city, but the best way to explore and get to grips with such an extraordinary place is by walking. Cycling and driving is a challenge with the hilly terrain, so Bristol is certainly not the place for people who hate to get their soles dirty!
The University of Bristol has an unwritten factor to it. Graduating with a good degree from the university shoots you far up the ladder when looking for a job. Although the majority of the work these days lies with the individual, this head-start is not to be missed.
I am proud to be an international scholar at Bristol and I thank the University for offering their support.
---
Arman Dostmohamed - BSc Psychology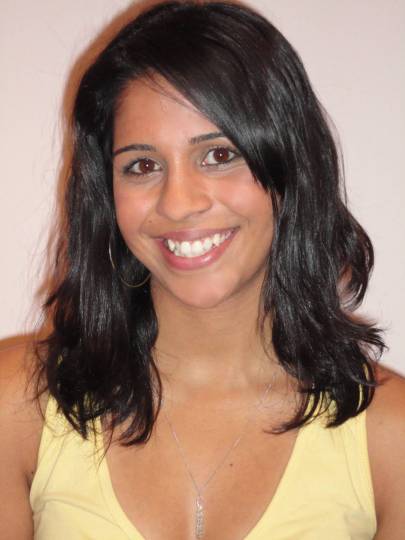 Born and raised in Kenya, that is where home has always been, and therefore the idea of moving to another country for University was both an exciting and scary prospect. After months of researching courses and universities, as soon as I got my acceptance letter into Bristol along with the knowledge that Bristol is indeed one of the most reputable universities in the UK, I knew that this is where I wanted to be.
I chose psychology with the hope that studying psychology will give me the opportunity to understand our human race and society better, and later apply my knowledge to benefit those around me, be it in a clinical or industrial setting. Psychology provides a wide horizon of opportunities which I hope will open numerous doors for my future and allow me to become a valuable member of society. So far, my first year as a student at the school of experimental psychology has provided me with a variety of skills and set a sturdy basis for the challenges of the forthcoming years. Additionally it has given me the forum to meet others in my field with similar interests from diverse backgrounds and cultures.
Life at the University of Bristol is not only about academics, I have also been able to part take in numerous extra-curricular activities and societies which I would never have had the opportunity to pursue back home. For as long as I can remember football has been my passion and joining the University of Bristol Women's Football Club (UBWFC) has allowed me to play along side some of the most talented footballers at a level I never imagined possible and in the process make friends with a wonderful group of girls.
Bristol is a beautiful city, where old architecture meets new perfectly, full of life and does not fail to provide endless forms of entertainment, enabling me to truly experience the life and culture of another country. Choosing Bristol has proven to be the right choice for me and though the idea of starting life in a new country may appear to be daunting, I have learnt that at University there is a place for everyone as different as they may be.
---
Humphrey Kayange Emonyi - MSc by Research in Chemistry
I came to know about University of Bristol through their rugby team which takes part in a tournament in Kenya every year. After doing my own research, I found out that the Bristol Chemistry department was among the top 5 departments in the UK. I then applied after deciding to pursue a post-graduate course having worked for a few years so this was a huge motivating factor.
The Bristol experience has been great, it was easy to settle down and being in a student town everything is close by and easy to access. Bristol is a multicultural town and the interaction with students from different places is exciting. Favourite part of Bristol has to be the downs, quite relaxing walking up there. There are a few places to hang out in close proximity of the campus and for that cheeky! Pint you won't miss a good pub.
I have had an amazing experience at the Chemistry Department. Being in a research group where everyone is very supportive and gives me the motivation to become a better scientist. My supervisor also very hands on and encourages me to explore the areas in which we are working on and as well pointing out areas that need improvement. Having access to all the latest equipment in research and the practical approach is an experience that is shaping me up for the future career. There are always seminars, workshops, oral presentations and group meetings that do help to provoke my thinking as well as improve my confidence and communication skills.
I have also been part of the University of Bristol Rugby team (UBRFC) and this made settling in quite easy as I got to interact much more with teammates from other courses. The team had a pretty decent season, winning the league and this makes one appreciate the student experience much more.
Some memorable times will be on a rugby trip away to Cambridge University and winning there which was quite an achievement for the team and we did enjoy the night out there!