Student experiences - Hong Kong
Chris Chan - MEng Aeronautical Engineering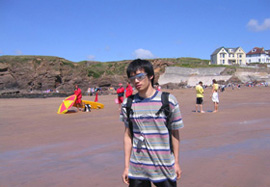 I have been to many university open days; Bristol impresses me most. The city is big and flourishing, offering everything I will ever need in my university life, also it's less expensive to live in Bristol than in London. However, the strongest impression is the department: clean and tidy laboratory, with high tech equipment, which creates an excellent study environment for engineering, so I have chosen to study in Bristol.
As a fresher I never felt alone; I quickly made friends with many international students in the university; I also joined the Windsurfing club and Hong Kong society. Moreover the staff at the international students' office are very helpful and friendly and they are always willing to help any student in need.
The University offers a Master's degree course in Aeronautics which I can study directly from my first year. Unlike most of the aero courses in the UK where two years of general view of Mechanical Engineering is needed, then specialized. This is very attractive to anyone like me who is fascinated by aircraft. Since the department has very strong local industrial links, the opportunity of the industrial placements that the University offers is particularly important to me, which will make my career life a lot easier after my time in Bristol.
The department's facilities for teaching, computing and experiments and manufacturing are superb, and with a relatively small student intake in this department, you are able to form lasting relationships with the teaching staff, which can be invaluable in my development as an engineer, and is a real bonus.
One of the great things about studying here is the diversity of students – from different countries and cultures. I enjoy learning from other people and will probably stay on at Bristol to study further in the department for a PhD.
---
Alan Cheuk Lun To
Bristol had left me a very good impression even before I came to study as an undergraduate at the University, as I had been to Bristol few times before when I was still at senior school. The most memorable part of Bristol is probably the Will's Memorial Building and I think no one will doubt that it is quite a remarkable landmark for both the University and the City itself.
There are a few qualities that the University of Bristol has that cause me to put it as the first choice for my further education. First, it is the location of the University. Despite the fact that the University precinct sits on the top of a hill and walking up hill is not the most exciting thing to do the first thing you wake up, the university is in a very convenient location as shops are near by and the town centre is not far away either. Secondly, it is the academic standard and friendly atmosphere here. During a visit at one of the open days, the staff and professors had been extremely friendly and very encouraging.
I have been doing my first year as a psychology and philosophy student for nearly half a year now and the qualities that I have just mentioned had not changed at all. The tutor and lecturers have been really helpful and encouraging (although, sometimes you might have boring lectures and annoying work which is unavoidable in any schools anyway). Although I am still very unsure about my future career, but I am sure I will work it out as the University has provided lots of support for this.
Apart from my academic work, I have joined different societies, and mainly musical societies like livesoc. However, the highlight of the year so far was the Variety Show held by the Hong Kong Society as I had taken up a position in the organising team. This show had kept me busy for nearly 4 months and had been a lot of fun.
The experiences as a university student in Bristol over the past few months have been unique and enjoyable. The one thing I have realised is that time is just never enough because there is too many things going on at the same time!
---
Mai Sea Maisie Ko - LLB Law
It has been 3 months since I have been here and this whole Bristol experience is highly rewarding and enjoyable. Very different from where I came from, which is Hong Kong, Bristol is a city of tranquility with rich cultural heritage and open space. My favourite building is no doubt my faculty, the Will's Memorial Building. Rushing into the Will's Memorial Building for tutorials always makes me feel like a character in Harry Potter. The beautiful interior made me speechless the first time I came for registration. The same sensation still strikes me from time to time when I have time to sit down. The short lesson times allowed greater flexibility and provides us with the opportunity to self-learning. I personally find it an effective learning method and the collection of books in the Will's Memorial Library is always my best companion.
My hall of residence, the Hiatt Baker Hall, is situated at Stoke Bishop and it takes me 40 minutes to walk down from my hall to my main campus area. The 40-minute walk appeared to be daunting at first but after a week, the trail down Black Boy Hill and the Whiteladies turn out to be a freshening walk before lectures and tutorials. Although walking with friends is fun, I enjoy walking down alone more. It gives me the time to reflect on my day and to occasionally get away from the hustle and bustle of my hall, the friendly Hiatt Baker Family. Hiatt Baker Hall is one of the biggest Halls, there are always new friends to meet, names and faces to be remembered. The best thing about hall life is the bonding among hallmates, and the night-outs we share together! My hall organised all themed parties in the first 2 weeks (which is called the Fresher's Fortnight) and we got to visit all the decent clubs and bars in the city together as a group. It is really great fun to live in a Hall and the food is not bad too.
I never regretted making a choice to come to UK because it has been such a rewarding experience. And I can dare say that if you are not enjoying your stay, you probably are staying in your comfort zone far too much without going all out in embracing the brand new lifestyle here in Bristol. I do urge all international students to be outgoing and get the most out of their 3-4 years of experience in UK!
See you around then!
---
Cheuk Yan Joshua Lee - BSc Biochemistry with Molecular Biology & Biotechnology
I first came across Bristol University when the university's international officer visited my high school. She gave a talk on the university education and life in Bristol, and it seemed like a place where I'd love to spend my undergraduate years. Although I hadn't had the opportunity to visit Bristol, after researching on the internet, I was very impressed with the academic standards at the university. Later when I received my university admission offers, Bristol really stood out from the rest and I started studying here from October 2010.
Studying at University of Bristol has been wonderful. The resources and opportunities that the university provides are far more than what I have expected. I am currently studying biochemistry and it has been very enjoyable. The lecturers are very passionate about their subject and they are always helpful and encourage you to see them whenever possible. I also find the online learning resources very useful and it is a very effective way of learning. Although sometimes the workload can be quite daunting, most students in Bristol are very interested in the subject and it is part of the learning experience. With the support from the university, I am certain that I will be prepared for my future career.
Aside from academics, Bristol is a vibrant city and people over here are very friendly as well. Bristol is First year students usually stay at university accommodation, which is a fantastic opportunity to meet different people. Since Bristol has a sizable student body, there are a lot of societies that you can join. When it comes to nightlife, even though Bristol is no London, there are still plenty of clubs that you can choose from. The music scene in Bristol is also quite diverse and exciting, and there are gigs that you can attend every night.
My university experience so far has been amazing and till date I have never regretted joining Bristol. I would recommend Bristol University to anyone who is looking for quality education in the UK.
---
Yee Kwan Venessa Lee - BVSc Veterinary Sciences
I have an unhealthy obsession with animals and an irrational fear of the dark. I have a million and one food allergies. My favourite pastimes include scooping up some horse poop and getting thrown about on a horse's back. Quite frankly, I am still amazed at how the University of Bristol has managed to cater to all my quirky needs. For a quiet-natured person like me (don't worry all you party animals out there – Bristol has plenty of nightclubs and social events to offer to you), I love how Bristol is the perfect blend between countryside and city.
What do I enjoy about my course? I would have to say getting bitten by gerbils, farted in the face by cows, slobbered all over by dogs, and of course the reactions I get when I tell my British friends I had never seen a sheep, ever, prior to coming to vet school. Most of all, I love hearing the life stories of University of Bristol alumni. I met people like Steve Leonard and Maria Lowe, two Bristol veterinary graduates who have achieved incredible things, and listening to their successes was truly inspiring. I came here so set on becoming an equine vet, but now I'm not so sure; and that's what Bristol does to you – it opens your eyes up to new opportunities (like being on TV!) and guides you to the best possible person you can be. I chose to be down South getting drenched in the rain instead of up North in the freezing cold and getting drenched in the rain; after five months in Bristol I came to the following conclusion: I definitely came to the UK for its lush weather (sarcasm intended). But in all seriousness, when the sun decides to show up, Bristol is one beautiful city.
---
Man Hei Davy Yeung - BSc Economics and Mathmatics
I come from Hong Kong and have studied in the UK for A-levels before I got into University of Bristol and I am currently a fresher. Bristol is a very artistic city; you can easily see a lot of amazing graffiti along the street, creating an interesting contrast with the grand old classical University buildings. Our University has a great location as well; the campus is a little bit further away from the busy streets, therefore students will not be disturbed from their studies, but do not worry about shopping for necessities as there are supermarkets and stores along Park Street which can meet your daily need. Being a sportsman, the University's gym has been one of my most visited places. It is very well facilitated and accommodates every user. No matter what your aim is; whether you want to lift heavy weights for muscle building, stamina training for your particular sports or even just tone up for summer, University's gym has all the equipment you need.
It is time to talk about the academic side of the University and my experience. University of Bristol is one of the Red Brick Universities and is in the Russell Group. In my opinion, it is not easy at all to study in Bristol. We have tutorials every week; homework has to be done for the tutorials. You might not understand the questions, and have no idea how to solve the problems, but do not panic or worry; a lot of your peers are facing the same problem. Feel free to talk to them, make friends with your colleagues, and share your thoughts with them, it helps releasing the stress and enjoying your course much more. My mates and I often fight through the problem sheets together, that makes it more fun. To conclude, studying in Bristol is interesting yet challenging, you learn a lot of new skills, not only academic wise, but also life wise, which is very useful for developing an independent character. If you are deciding to study in Bristol, welcome, and I look forward to seeing you in the future.