Student experiences - Egypt
Dr Remah Kamel - MSc Reproduction and Development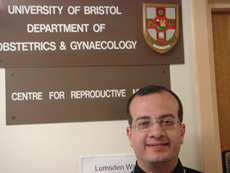 I had always a dream of studying and practicing Medicine abroad. The first step towards fulfilling my dream started soon after I finished my MD in Obstetrics and Gynaecology. I moved to London, UK, where I got my membership of the Royal College of Obstetricians and Gynaecologists (MRCOG). Then I moved to France to get my Postgraduate European University Diploma of Operative Endoscopy in Gynaecology from Faculty of Medicine, University of Auvergne, Clermont-Ferrand. Later on, I returned back to UK, looking for a subspecialty in Obstetrics and Gynaecology. From the Medical School of Warwick University, I have awarded a Postgraduate Certificate in Assisted Reproduction Techniques (ART).
In 2007, I decided to start a formal intensive study in Reproductive Endocrinology and Infertility at an accredited British IVF centre. The Centre for Reproductive Medicine at University of Bristol was my first choice. It was recommended to me by the Royal College at London.
Bristol is an amazing quiet beautiful city. The university of Bristol has an excellent reputation in the research field. The Obstetric and Gynaecology department at Saint Michael's Hospital was extremely welcoming. I never felt alone. I got support from the medical staff and a lot of friends at the university.
The facilities at Obstetric and Gynaecology department for teaching, computing, and clinical practice are perfect. With relatively small student numbers, I am able to get the most benefits from the students-staff communication. The university web-site is perfectly build-up with many resources of information.
I have been lucky to be awarded an International Scholarship on the year 2007. This was the first time for me to apply and win a scholarship competition. Truly this scholarship has helped me a lot as I am the one who suppose to fund my own study and stay here. This was an encouraging force for me to get the best distinguished exam results.
Finally, I am proud of being one of the Bristol University postgraduate students. I feel very privileged to be able to expose the way in which Medicine is practicing here in UK. As an assistant professor of Obstetrics and Gynaecology at Faculty of Medicine, King Abdul-Aziz University, Saudi Arabia, my study in Bristol, will be reflected on my clinical teaching and hospital practice.
I would definitely recommend any student who decide to take a postgraduate study in Assisted Reproduction to apply to the University of Bristol.